Topics > Northumberland > Ponteland
Ponteland
Ponteland is a parish in Northumberland, situated 61 km (38 miles) south of the nearest Scottish Border crossing with Scotland and 15 km (9 miles) north of Newcastle upon Tyne, England. The name means 'island in the Pont', named for the river that flows through the village.
Ponteland's first settlement concentrated around solid ground within the marshland near St. Mary's church and the old bridge. Most of Ponteland's marshland is now drained to make way for housing. The River Pont flows from west-to-east and joins the River Blyth further downstream, before flowing into the North Sea. During the industrial era, Ponteland village enlarged to include residential developments in Darras Hall. It is home to many of the region's footballers and CEOs and is part of the North East's only safe Conservative parliamentary seat.
History
There has been nearly a thousand years of Christian worship in Ponteland. This traditionally concentrated around St Mary's the Virgin, the prominent Church of England church near Ponteland's village green. St Mary's traces its first construction to the Norman period in the twelfth century and is still an active church. Ponteland has parish registries dating from 1602 and has been recorded in Bishops transcripts as an important place of religion since 1762. Fuller details of Ponteland's varied church records are available through the Northumberland Collections Service.
Christian worship in Ponteland has expanded to other denominations in recent centuries. The Ponteland Methodist Church opened in 1841. An 1848 review appreciated Ponteland also hosted places of worship for Scottish Presbyterians and a Wesleyan Chapel.
In 1867 an Anglican sister church to St Mary's opened in Milbourne, one of the Ponteland's wards. In 1884 a Catholic church was established at St Matthews, now part of the Hexham and Newcastle Catholic diocese. During the twentieth century a United Reformed Church opened in Darras Hall.
Reflecting Ponteland's proximity to Scotland it has suffered, sometimes enjoyed, several effects from Anglo-Scots conflict and the unclear Anglo-Scottish border. Owing to the asymmetric north-south line of the border, Ponteland lies north of important Scottish towns such as Gretna Green, Stranraer, and Kirkcudbright. Much of Dumfries & Galloway, one of Scotland's border counties, lies south of Ponteland.
In the thirteenth century, Ponteland narrowly escaped conflict when the Treaty of Newcastle (1244) ensured a last minute peace between Scottish and English forces. The treaty bears the name of Ponteland's nearest city but was actually signed in the village.
During the fourteenth century, Ponteland was less fortunate. Scottish forces destroyed part of Ponteland Castle, as prelude to the Battle of Otterburn in 1388. Otterburn is 20 miles to the west of Ponteland. Taking advantage of English distractions in the Hundred Years War with France, 1337–1453, this battle saw a decisive defeat for English forces and the expansion of Scottish influence in Ponteland's Middle Ages experience.
One fortunate outcome continues to the current era. While Ponteland Castle was never rebuilt as a military stronghold, it transformed into a public house. Known as "The Blackbird" this still serves the Ponteland community, nearly seven hundred years after the destruction of its original purpose.
During the twentieth century, parts of Darras Hall were used as a prisoner-of-war camp in the Second World War. The camp was designated number 69 of several hundred camps across Britain and held Italian and German prisoners-of-war. (This is covered in Sophie Jackson's 2013 book: "Churchill's Unexpected Guests: Prisoners of war in Britain in World War II") Reflecting post-war growth of the village, a state secondary school opened in 1972, the Ponteland High School. The affluent housing estate of Darras Hall is a popular choice for many of the North east's wealthy residents and many people associated with Newcastle United Football Club live in the parish including Alan Shearer, Peter Beardsley, Steven Taylor, George Hall and Terry McDermott.
In December 2005, Darras Hall received considerable media attention when a convicted rapist moved to the estate after purchasing a house with his National Lottery winnings.. For months after purchasing his house, he was bombarded with threats and constant media exposure.
In the early twenty-first century, an expanding Ponteland and the adjoining Darras Hall homed approximately 11,000 people. It secured "town" status within Northumberland.
Ponteland has notable greenbelt surrounding it, and has been identified by Northumberland Council for development. Potential plans, yet to be gazetted, include relocating the town's schools and library to make space for more homes. Ponteland itself may be upgraded to a "main town" within Northumberland.
Notable Landmarks
Ponteland is notable for a ruined pele tower, its bridge, and its four churches: St Mary's (Church of England), St Matthew's (Roman Catholic), Ponteland Methodist Church and Ponteland United Reformed Church.
St Mary's churchyard includes the Grade II listed 18th-century tombstones of Matthew Forster and William Turnbull.
Ponteland previously boasted a small castle or tower house, which was largely destroyed by the Scottish army under the Earl of Douglas, the day before the 1388 Battle of Otterburn. The remains were incorporated into the building now occupied by the Blackbird Inn, which is rumoured to contain an old tunnel connecting it to St Mary's church across the road. The tunnel was supposedly bricked up behind the fireplace in The Tunnel Room.
A plaque outside The Blackbird records:
Ponteland first appeared in the national history in the 13th century, when the feuds between the Kings of England and Scotland were in full spate.
The signing of a peace treaty between Henry III of England and Alexander of Scotland took place on the knoll of the marshes where the Blackbird stands today.
The castle on this site was destroyed in 1388 during the Scottish retreat from Newcastle."
On the outskirts of Ponteland is another public house with vintage links to Scotland. This marks an occasion during the Jacobite rising of 1745, where Scottish armies advanced into England to further claims to the English throne. During this incursion, Charles Edward Stuart, popularly Bonnie Prince Charlie, bathed at a Ponteland public house. Marking this occasion, the house is still called "The Highlander"
One of the oldest houses, or farms at the time, in the Darras Hall area is Little Callerton House. The Old Mill, the house where Alan Shearer used to live, and various other dwellings in the area belonged to Little Callerton House, which is approximately 450 years old. On the edge of the estate at High Callerton, Rebellion House is a 16th-century bastle, altered and extended in the 17th century.
Demography
Ponteland parish is home to 10,921 people or 3% of the Northumberland population of 316,000. Of particular note, significantly more Ponteland residents live in detached housing versus Northumberland county overall; 65% of Ponteland parish residents are detached home residents versus 25% of Northumbrians. Ponteland also has significantly more ethnic minorities than Northumberland on average, probably because it is situated next to Newcastle Airport.
In Ponteland, 8.3% of the population are non-white British, compared with only 2.8% for Northumberland. Amazingly, this makes the town more ethnically diverse than Gateshead, which has the largest concentration of foreign people in Tyne and Wear outside Newcastle. Ponteland also has double the percentage of Asian people compared with the town, however, this does mean that Ponteland has a smaller percentage of black people and mainland Europeans compared with Gateshead. Ponteland has the lowest White British population out of any town in Northumberland with only 10,004 out of the 10,921 residents being of that group.
Economy
Ponteland residents are particularly active in commercial and financial services in northern England, southern Scotland, and the wider European Union. The parish benefits from its proximity to Newcastle International Airport, which is the tenth busiest in the United Kingdom and operates frequent flights to London Heathrow, several European capitals, and North America. Ponteland residents are more likely than Northumbrians to be 'Managers Directors and Senior Officials' or in the professions or associate professions. Ponteland has 58% such individuals versus 38% in Northumberland overall.
Education
By the early twenty-first century, Ponteland had achieved eminent and sought after status for its schooling opportunities, hosting five state schools within the parish; neighbouring presence to several independent schools within ten miles (16 km); and close to five boarding schools within a hundred miles (160 km).
Amenities
Ponteland's retail and commercial amenities concentrate around the village Main Street, the nearby Industrial Estate, and Broadway, the small commercial zone serving Darras Hall. Two major supermarket chains have stores in the village. Several banks also operate on Main Street. The Northumbria Police force headquarters is just north of Ponteland.
Sports
Ponteland United – the local football club.
Ponteland Cricket Club – the local cricket club
Ponteland RFC – the local Rugby Union club.
Northumberland
River Pont
Ponteland Civil Parish
Ponteland Parish, 1848
Benridge Hall
Church of St Mary the Virgin, Ponteland
Darras Hall
Kirkley Hall
Map and Aerial View
Ponteland at War
Ponteland Primary School 022868:Memorial Hall Ponteland Northumberland c.1930
---
Pinned by
Simon Cotterill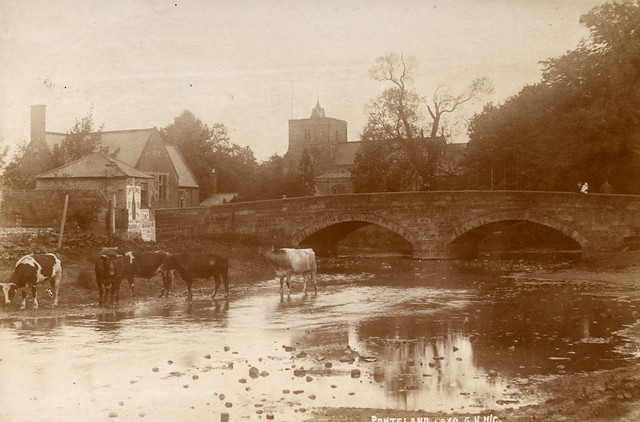 001931:View of Ponteland from the riverbank towards the church black-and-white photograph around 1900.
---
Pinned by
Simon Cotterill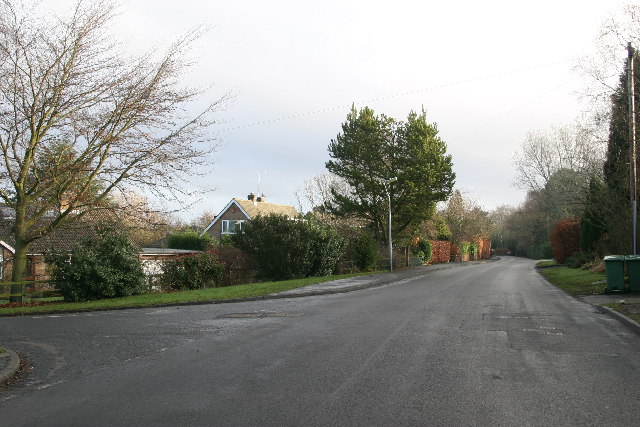 from Flickr (flickr)
VINTAGE POSTCARD , PONTELAND , TYNE & WEAR , NORTHUMBERLAND
---
Pinned by
Peter Smith
---