Privacy Policy
Your privacy is very important to us. This page outlines the personal information held by the Co-Curate North East Website and how it is used.
The Website is run by Newcastle University and based on a secure Webserver.
Most of the content on Co-Curate is publically accessible without requiring an account or login. However, login is required to comment, tag, or add content. Only a minimal amount of personal data is required for access Co-Curate (name and Email address). We will not pass on your Email address or social login details to any third parties, unless explicitly required to do so by legal reasons.
This is a community Website. You should be aware that when adding pages, tagging or uploading resources, and making comments in public communities- your name/alias will be publically displayed, with a link to an automaticaly generated profile showing your most recent pages, resources and comments. You will be notified via the system if people comment on your page or resources; however, they will not be given your Email address to contact you directly. Most of the images and videos on the site are accessed from 3rd party Websites (such as You Tube and Flickr); images uploaded in Co-Curate are stored remotely in Flickr, and can also be accessed via that service. Co-curate is founded on the ideals of Open Access and content sharing; when uploading images via Co-Curate you will have the opportunity to select the type of licence.
The site does use cookies: see our Cookie Policy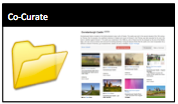 Cookie Policy
- Cookies used on this site: Cookie Name Description __utma The __utma cookie is part of Google Analytics, and is primarily used to track visits to any site which uses Google …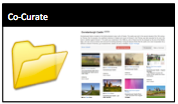 Cookie Policy
- Cookies used on this site: Cookie Name Description __utma The __utma cookie is part of Google Analytics, and is primarily used to track visits to any site which uses Google …
---