Topics > Tees Valley > Middlesbrough > Stainton > Memorial Hall, Stainton
Memorial Hall, Stainton
Memorial Hall is located on Meldyke Place in Stainton, Middlesbrough. The building has an interesting history; it was originally built in 1844 as a national school. In 1876 the pupils were transferred to the new Stainton Board Schools, after which the building was used as a reading room. Following the First World War the building purchased by the parish council and was extended to become a new village hall and memorial to commemorate those who lost their lives in the war; Memorial Hall was officially opened on the 20th of December 1920.[1] The Parish Council ran Memorial Hall until 1967, after which it became run as a local charity. Memorial Hall is Grade II listed on the National Heritage List for England.
Stainton
1844
Old Stainton School
War Memorials
National Schools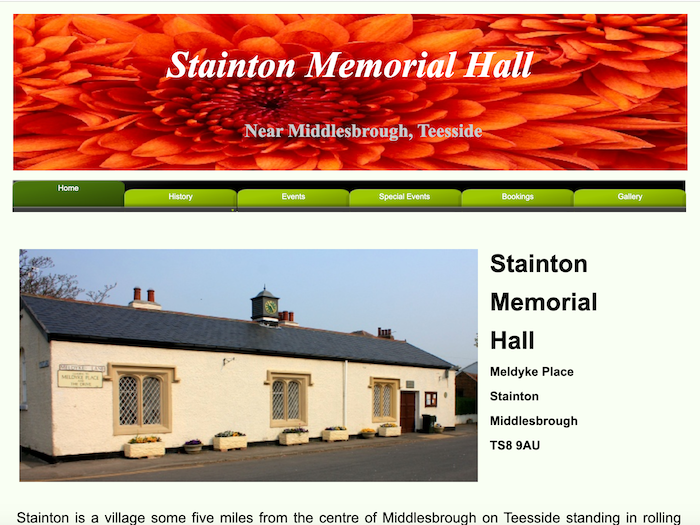 Stainton Memorial Hall
- Stainton Memorial Hall (Stainton, Middlesbrough) - events, bookings, history etc.
---
Added by
Simon Cotterill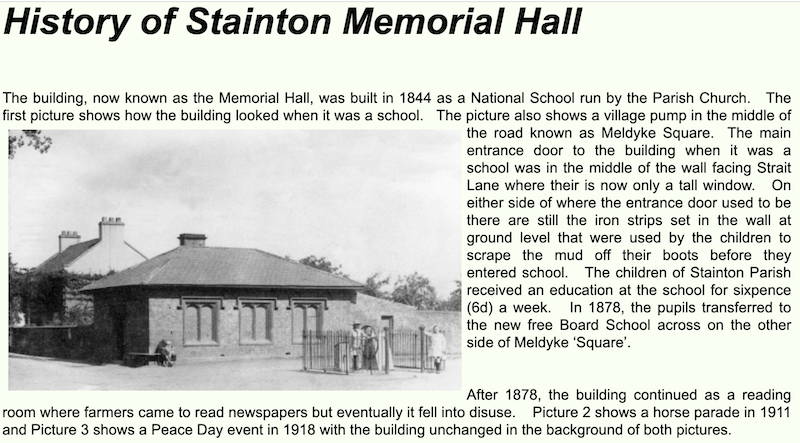 History of Stainton Memorial Hall
- "The building, now known as the Memorial Hall, was built in 1844 as a National School run by the Parish Church. The first picture shows how the building looked when ...
---
Added by
Simon Cotterill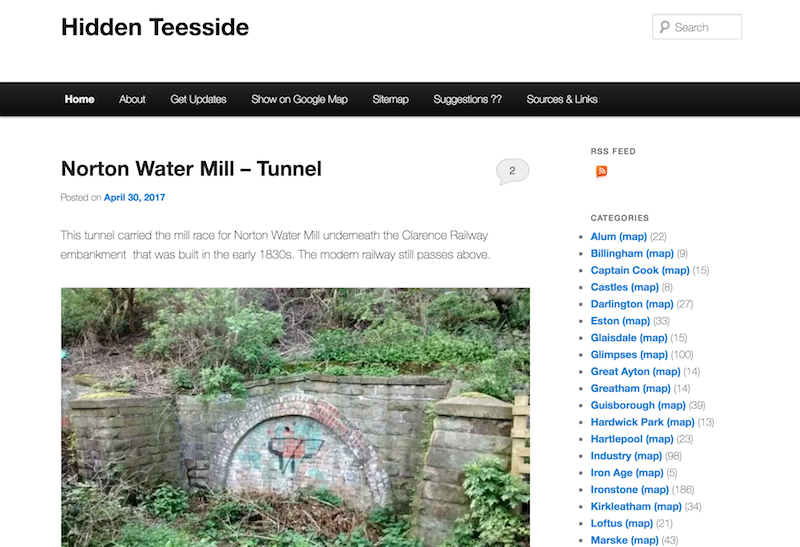 Stainton Memorial Hall 1844
- Includes photos..."This building originally opened as a 'Nation School' in 1844 which cost sixpence a week. It closed in 1878 when a free school opened and then became a ...
---
Added by
Simon Cotterill
Old Stainton School
- Overview Map Street View Stainton Board Schools (separate boys and girls schools within the building) was constructed in 1876 by the Stainton, Thornton and Maltby School Board. It replaced the ...
---