Topics > Northumberland > Seaton Sluice > Holywell Dene > Historical Account of Holywell Dene, 1894
Historical Account of Holywell Dene, 1894
Extract from: JOHN ROBINSON (1894), ILLUSTRATED HANDBOOK TO THE RIVERS Tyne ,Blyth,& Wansbeck; ALSO A GUIDE TO TYNEMOUTH, CULLERCOATS, WHITLEY, MONKSEATON, ST. MARY'S ISLE, HARTLEY, SEATON DELAVAL, BLYTH, NEWBIGGIN, WITH THE LEGENDS AND TRADITIONS OF THE COAST; AND A Glance Guide to Newcastle.
GOWDENHOLE AND HOLYWELL DENE
No lovelier spot can be found on the coast between Tyne and Tweed than that of Gowdenhole and Holywell Dene, which lies about a mile from Seaton Lodge, up Hartley Burn. Nature may here be seen in her most charming and loveliest aspect, balmy paths through retired dells, sparkling rivulets
"Which chatter over stony ways
In little sharps and flats."
The beauties of Gowdenhole and Holywell Dene has often been sketched by skilled artists, and local poets have chanted its praise in glowing lines. From the bend of the burn at Hartley Quarries, up to the Railway Bridge which spans the burn at Holywell Dene, no more charming piece of sylvan scenery can be found in Northumberland; here you have a spot
"Where smiling Spring its earliest visits pay,
And parting summer's lingering bloom delay."
The name of Gowdenhole (Goldenhole) will be easily appreciated from the wealth of natural beauty found in the Vale: and the name of "Silver Hill" is given to the high bank which crowns the south side of the Valley. This delightful spot has long been a favourite place for picnic parties, and in the memory of some now living the cottages and gardens above the Water Mill were famous for their wealth of roses and honeysuckle; the walk up by the side of the mill-race on to the plateau of the mill dam amply repays the visit. With the gradual development of a taste for nature which is spreading in all classes, this charming spot only needs a public garden to supply a felt want, when it will become more and more popular. Crow Hall Farm, which stands on the heights of the south side of the Dene has long been the favourite house of call for a refreshing cup of tea, and is also a delightful specimen of an old English farm house. Visitors can return by the highway to Hartley, or on to Monkseaton, or go by the Dairy House on to New Hartley Station.
Starlight Castle < Robinson, 1894 > New Hartley Calamity
Holywell Dene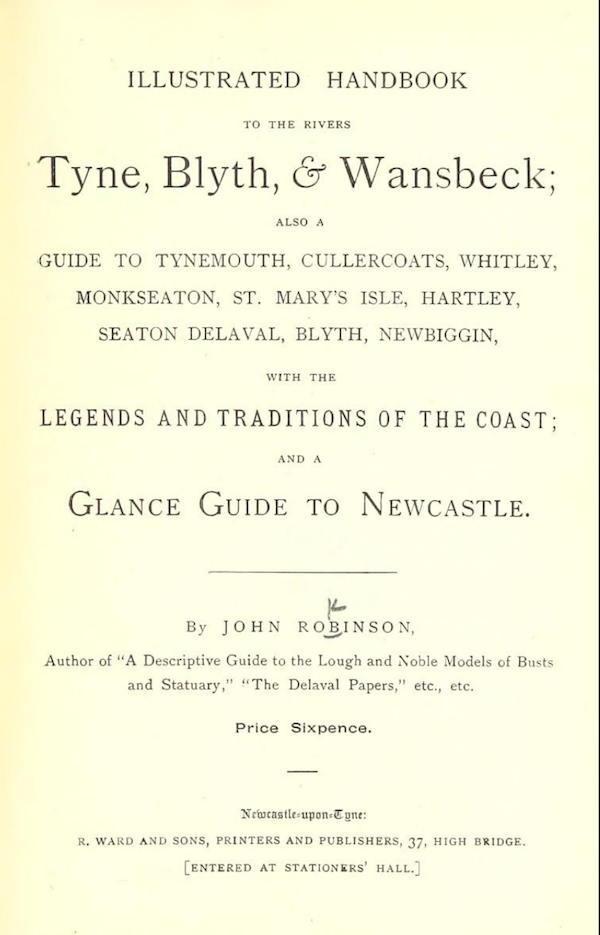 JOHN ROBINSON (1894), ILLUSTRATED HANDBOOK TO THE RIVERS Tyne , Blyth, & Wansbeck etc.
- JOHN ROBINSON (1894), ILLUSTRATED HANDBOOK TO THE RIVERS Tyne ,Blyth,& Wansbeck; ALSO A GUIDE TO TYNEMOUTH, CULLERCOATS, WHITLEY, MONKSEATON, ST. MARY'S ISLE, HARTLEY, SEATON DELAVAL, BLYTH, NEWBIGGIN, WITH THE LEGENDS …
---
Added by
Simon Cotterill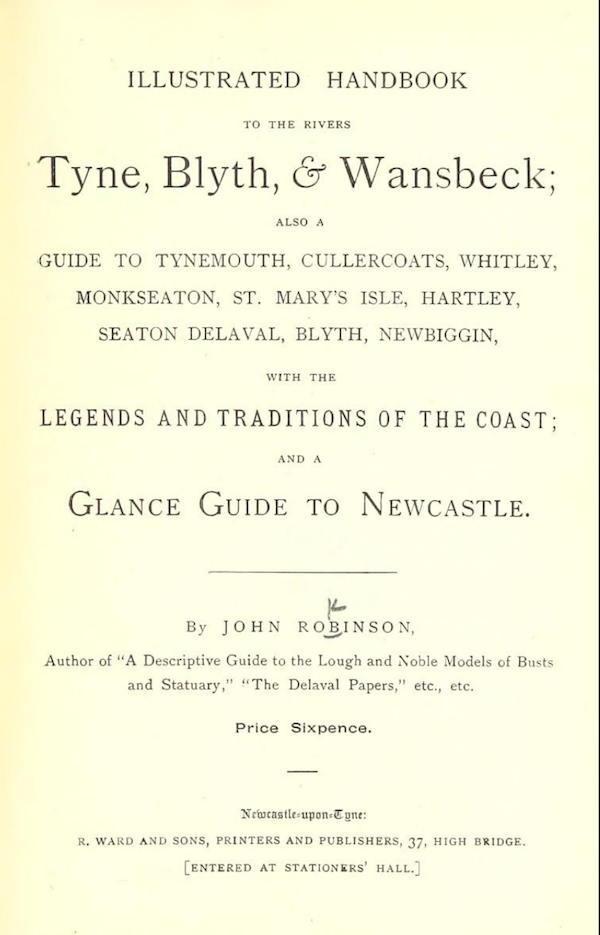 JOHN ROBINSON (1894), ILLUSTRATED HANDBOOK TO THE RIVERS Tyne , Blyth, & Wansbeck etc.
- JOHN ROBINSON (1894), ILLUSTRATED HANDBOOK TO THE RIVERS Tyne ,Blyth,& Wansbeck; ALSO A GUIDE TO TYNEMOUTH, CULLERCOATS, WHITLEY, MONKSEATON, ST. MARY'S ISLE, HARTLEY, SEATON DELAVAL, BLYTH, NEWBIGGIN, WITH THE LEGENDS …
---
Added by
Simon Cotterill
---