Topics > Northumberland > New Hartley > Hartley Colliery (-1959) > Hartley Colliery Disaster, 1862 > Account of the Hartley Colliery Disaster
Account of the Hartley Colliery Disaster
Extract from: JOHN ROBINSON (1894), ILLUSTRATED HANDBOOK TO THE RIVERS Tyne ,Blyth,& Wansbeck; ALSO A GUIDE TO TYNEMOUTH, CULLERCOATS, WHITLEY, MONKSEATON, ST. MARY'S ISLE, HARTLEY, SEATON DELAVAL, BLYTH, NEWBIGGIN, WITH THE LEGENDS AND TRADITIONS OF THE COAST; AND A Glance Guide to Newcastle.
THE HARTLEY CALAMITY.
Close to New Hartley Station is the shaft of the ill-fated Colliery where 199 men and boys lost their lives by the breaking of the ponderous iron beam, of 43 tons weight, half of which fell down the shaft— and remains their yet— which completely shut out from escape the men and boys down the mine at the time. No disaster ever occurred in England which sent such a thrill of sorrow throughout the whole of Europe. The shaft where the beam fell into is now walled round, and the original erection inscription has, very unthinkingly, been built into the wall. Innumerable instances of great deeds of self-sacrifice and heroism, were exhibited by the workmen employed in their task of reaching the bodies of their fellow-workmen entombed in the mine; and the womanly sympathies evinced by the Queen towards the widows and fatherless children will ever be remembered in the many actions which has characterised the life of Her Majesty. There was also humorous traits even in the grim and sorrowful duties performed by the workmen, during the anxious days when efforts were being made to rescue, if possible, the imprisoned miners. During the operation of seeking an entrance into the blocked-up shaft, no one was allowed to go near the mouth of the shaft, except the officials and the workmen engaged. One day a gentlemen presented himself and demanded admittance. The workman on duty would not allow the stranger to pass. "But," says the visitor,"I am the Mayor of Tynemouth!" "I divn't care,' says the honest pitman, " suppose thou was the Horse o' Shields! thou shan'at pass here without Mr. Carr's orders." Mr. Carr was the owner of the colliery.
Gowdenhole and Holywell Dene < Robinson, 1894 > Earsdon
Hartley Colliery Disaster, 1862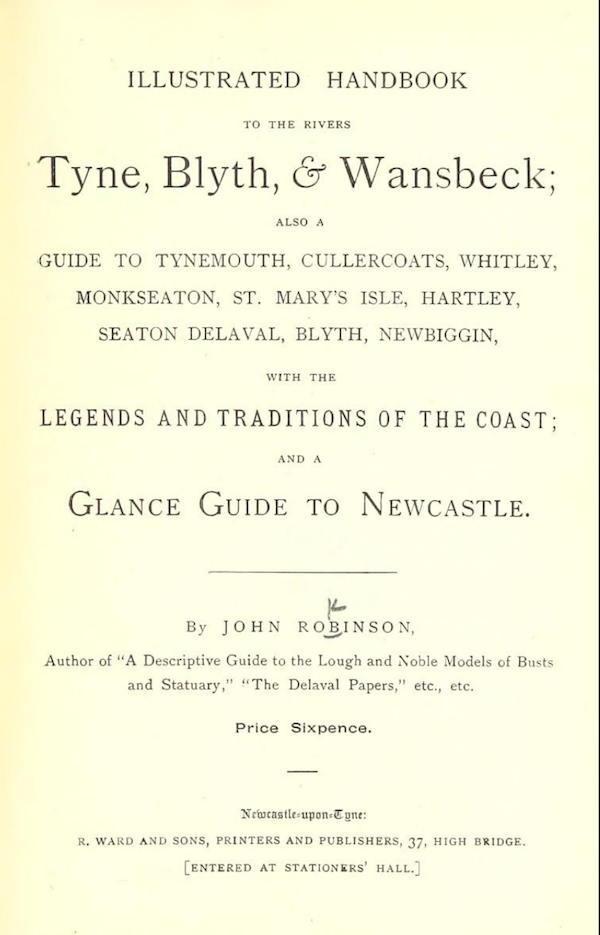 JOHN ROBINSON (1894), ILLUSTRATED HANDBOOK TO THE RIVERS Tyne , Blyth, & Wansbeck etc.
- JOHN ROBINSON (1894), ILLUSTRATED HANDBOOK TO THE RIVERS Tyne ,Blyth,& Wansbeck; ALSO A GUIDE TO TYNEMOUTH, CULLERCOATS, WHITLEY, MONKSEATON, ST. MARY'S ISLE, HARTLEY, SEATON DELAVAL, BLYTH, NEWBIGGIN, WITH THE LEGENDS …
---
Added by
Simon Cotterill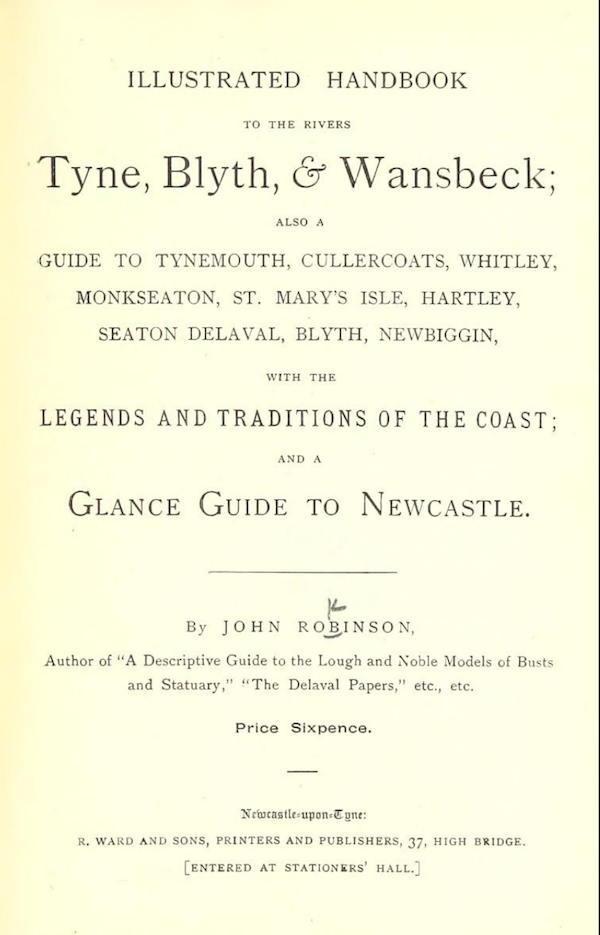 JOHN ROBINSON (1894), ILLUSTRATED HANDBOOK TO THE RIVERS Tyne , Blyth, & Wansbeck etc.
- JOHN ROBINSON (1894), ILLUSTRATED HANDBOOK TO THE RIVERS Tyne ,Blyth,& Wansbeck; ALSO A GUIDE TO TYNEMOUTH, CULLERCOATS, WHITLEY, MONKSEATON, ST. MARY'S ISLE, HARTLEY, SEATON DELAVAL, BLYTH, NEWBIGGIN, WITH THE LEGENDS …
---
Added by
Simon Cotterill
---