Topics > Northumberland > Craster
Craster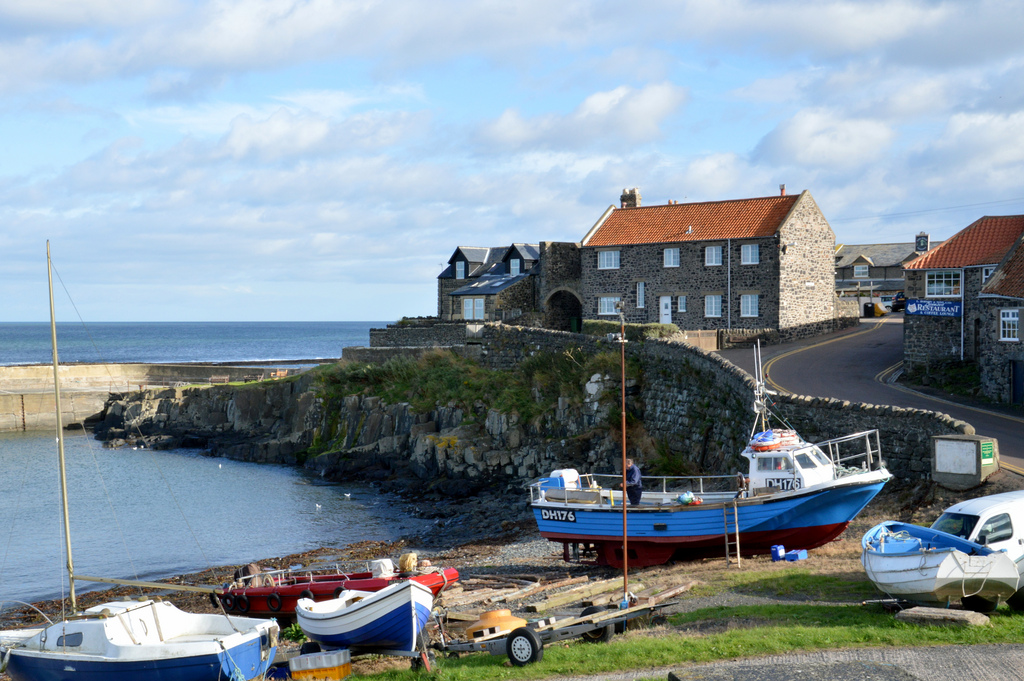 Craster is a
fishing
village in
Northumberland
, famous for producing "Craster kippers". Craster has been a fishing haven since at least the 17th century.
The harbour
was built in 1906, which as well as fishing also supported exporting whinstone from local quarries[
1
]. During
World War 2
, a radar station was built and a number of
pillboxes
were built around Craster. Craster the nearest point of acess to
Dunstanburgh Castle
. Historically, Craster was a township in the ancient parish of Embleton. Totday the village forms part of
Craster Civil Parish
.
CRASTER, a township, in the parish of Embleton, union of Alnwick, S. division of Bambrough ward, N. division of Northumberland, 6¼ miles (N.E.) from Alnwick; containing 247 inhabitants. In 1272 the manor was held by William de Craucestr', by the service of half a knight's fee, and it has continued in his family to the present time; his descendants in the 14th century altered their name to Craster. Craster Tower, the seat of Thomas Wood Craster, Esq., is surrounded with plantations, and commands fine land and sea views. The village, which is called Craster Sea-Houses, is situated on the coast.
Extract from: A Topographical Dictionary of England comprising the several counties, cities, boroughs, corporate and market towns, parishes, and townships..... 7th Edition, by Samuel Lewis, London, 1848.
Craster is a small fishing village on the Northumbrian coast of England. It has a small harbour and offers a view northwards along the rocky shore to the ruins of Dunstanburgh Castle. This is the nearest point of access to the castle and the approach must be made on foot as there is just a grassy path. The next village to the north is Embleton.
For many years, the village has had a herring-curing business: Craster kippers are well known in England. The local herrings are smoked in a traditional manner by the Robson family.
The remains of a tower on the end of the harbour are all that can be seen now of the much taller building which was part of the overhead equipment which used to convey the local stone from where it was quarried to boats in the harbour. The disused quarry is now a car park. A small distance inland lies Craster Tower, the home of the Craster family who owned the quarry and had the harbour improved for its benefit. A memorial on the harbour wall commemorates a member of the Craster family who died serving with the British Army in Tibet in the 19th century. The development of the harbour serves as a memorial to their son.
The walk along the coast to the south passes by Cullernose Point, an example of the basaltic cliffs which are a significant feature of the local landscape. It is within the Northumberland Coast Area of Outstanding Natural Beauty.
A mile to the west, Dunstan Hall is a mansion incorporating a medieval peel tower, now used as holiday accommodation.
Google Map: drag to move the view, zoom in and out using the control (lower right-hand corner); switch to map view (lower left-hand control)
Northumberland
Map and Aerial View
Embleton Parish, 1855
Fishing
Craster Civil Parish
Embleton Parish, 1848
Church of St Peter
Craster at War
Craster Harbour
Craster Kippers
Craster Tower
Dunstanburgh Castle
Jolly Fisherman, Craster
Map and Aerial View
War Memorial, Craster