Topics > Northumberland > Civil Parishes in Northumberland > Corsenside Civil Parish > Corsenside Parish, 1848 > Risingham
Risingham
Risingham, near West Woodburn in Northumberland, is the location of Habitancum Roman Fort. About ½ mile south-east of the fort is the Roman carving known as Robin of Risingham. The area here was once Ridsdale deer park, which was recorded in 1307 to be owned by the Earl of Angus. Parkhead, Parkside and Doe Crag here are thought to relate to the ancient deer park.
RISINGHAM, in the parish of Corsenside, union of Bellingham, N.E. division of Tindale ward, S. division of Northumberland, 17 miles (N. by W.) from Hexham. This place is the site of the celebrated Roman station Habitancum, supposed to have been founded by Julius Agricola in the year 79 or 80. It is situated on a small brook, near the east margin of the river Rede, and about half a mile from the beautiful hamlet of Woodburn: the ancient Watling-street passes close to it on the west. The walls of the fort inclose an area of nearly four acres of rich dry ground: on the east and south it was defended by ditches, and on the west by a natural slope of the land, and the bed of the Chester burn; and though it is overlooked by higher grounds at short distances on the east and south-west, yet its position is very strong. Many antiquities were discovered here, and were removed to Conington, by Sir Robert Cotton, by whom they were bequeathed to Trinity College, Cambridge. Sir Walter Scott makes mention of Risingham in the notes to his Rokeby.
Extract from: A Topographical Dictionary of England comprising the several counties, cities, boroughs, corporate and market towns, parishes, and townships..... 7th Edition, by Samuel Lewis, London, 1848.
Corsenside Parish, 1848
Habitancum Roman Fort
Robin of Risingham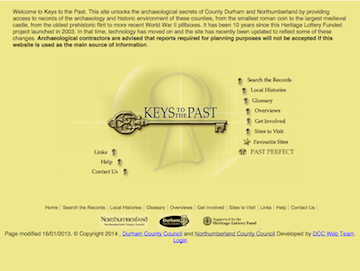 Ridsdale deer park (Corsenside)
- "Former deer park supported by placename evidence, including Parkhead, Parkside and Doe Crag. In ownership of the Earl of Angus in 1307...."
---
Added by
Simon Cotterill
Habitancum Roman Fort
- Overview About Habitancum Habitancum was an ancient Roman fort (castra) located at Risingham, Northumberland, England. The fort was one of the defensive structures built along Dere Street, a Roman road …
---