Topics > Northumberland > Civil Parishes in Northumberland > Mitford Civil Parish > Historic Buildings and Monuments in Mitford Civil Parish
Historic Buildings and Monuments in Mitford Civil Parish
Listed buildings and scheduled monuments in Mitford Civil Parish, Northumberland, from the National Heritage List for England[1]. Use the Search (below) if looking for a specific building / monument.
Primary source: the National Heritage List for England - NHLE is the register of nationally protected historic buildings and sites in England, including listed buildings, scheduled monuments, protected wrecks, registered parks and gardens, and battlefields. The list is maintained by Historic England. Check NHLE for updates and new entries.
Secondary sources: British Listed Buildings and Keys to the Past. Church of St. Mary Magdalene
- Overview Map Street View The Parish Church in Mitford, Northumberland, dates from the 12th century. However, in 1216 the church and many of the villagers who had taken sanctuary in …
Mitford Castle
- Overview About Mitford Castle Map Street View Mitford Castle dates from the late 11th century. It is a ruined motte and bailey castle, which stands on a small promontory by …
Old Manor House
- Overview Map The manor house in Mitford, Northumberland, dates from the 16th century. The manor house is located in a bend of the River Wansbeck, close to St Marys Church …
Pillbox, near Mitford Castle
- This Second World War pillbox is located near Mitford Castle, 718m south-west of Mitford Bridge. It was built by the Northern Command as part of the River Wansbeck Stop Line …
Foss Bridge
- Foss Bridge is a mid 18th century stone bridge over the River Wansbeck at Mitford, near Mitford Castle (sometimes caled "Wansbeck Bridge"). The bridge is Grade II listed.[1]
Mitford Hall
-
Lych Gate to Church of St. Mary

Drinking fountain
- There is a drinking fountain besides the B6343 road through Mitford. It was built in 1877 and it's round-headed stone arch encloses a carving of dragon's head impaled on sword,  inscribed …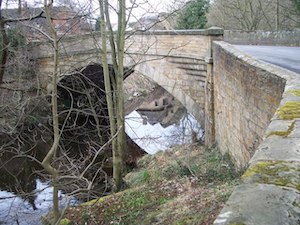 Mitford Bridge, over the River Font

Pillbox, Adders Haugh
- This Second World War pillbox is located on Adders Haugh, 301m south of Mitford Bridge. It was built by the Northern Command as part of the River Wansbeck Stop Line …
Pillbox near Spittal Hill Farm
- This Second World War pillbox is located near Spittal Hill Farm, 320m north-west of Mitford Bridge. It was built by the Northern Command as part of the River Wansbeck Stop …