Topics > County Durham > Hutton Henry
Hutton Henry
Hutton Henry is a village in County Durham, located about 5 miles north-west of Hartlepool and 1 mile east of Station Town. In the village are Hutton Henry C. of E. Primary School, St Francis Village Hall and the Plough Inn. Historically, Hutton Henry was a township in the ancient Parish of Monk Hesleton. The 'Henry' part of the place name was added in the 14th century, when the Lord of the Manor was Henry de Eshe, and distinguished it from Hutton Magna, also in County Durham. Today, the village and it's surrounding area forms the Civil Parish of Hutton Henry.
HUTTON-HENRY, a township, in the parish of Monk-Hesleton, union of Easington, S. division of Easington ward, N. division of the county of Durham, 1½ mile (S.) from Castle-Eden, and 12 (N. by W.) from Stockton-on-Tees; containing 287 inhabitants. It comprises about 1,900 acres of arable and pasture, with about 100 acres of wood; the soil, in some parts a strong clay loam, is generally poor moory land, but capable of much improvement. The scenery embraces fine sea-views, and the air is very salubrious. Limestone is quarried; and at Hart Bushes, Messrs. Metcalfe, Wilson, Seame, and Co., opened a deep shaft for a coalmine in 1843: the produce is shipped at Hartlepool. The village stands on rising ground in the centre of the township, and the Stockton and Sunderland road passes on the east. The vicarial tithes have been commuted for £232. 18. 1., of which £162. 18. are payable to the vicar of the parish, and £70 to the vicar of Hart. There is a place of worship for Roman Catholics, built in 1824, by the Rev. Thomas Augustin Slater.
Extract from: A Topographical Dictionary of England comprising the several counties, cities, boroughs, corporate and market towns, parishes, and townships..... 7th Edition, by Samuel Lewis, London, 1848.
Hutton Henry is a village in County Durham, in England. The population of the parish at the 2011 census was 1,565. It is situated to the west of Hartlepool, near the villages of Wingate and Station Town.
In ca. 1050 the village was known as Hoton. Henry de Essh held it in the 14th century, providing the second part of the name. During the 19th century it was a mining village, as were the nearby villages of Wingate and Station Town. Its population increased from 156 in 1801 to 3,151 in 1891 due to the opening of collieries. Hutton Henry colliery was operational between 1876 and 1897 and was owned by Hutton Henry Coal Co. Ltd. In 1894 its average output was about 190,000 tons per annum, and it was said to employ 1,000 men and boys..
Text from
Wikipedia
, available under the Creative Commons Attribution-ShareAlike License (accessed: 01/12/2016).
Visit the page:
Hutton Henry
for references and further details. You can contribute to this article on Wikipedia.
County Durham
Hutton Henry Civil Parish
Monk Hesleden Parish, 1848
Hutton Henry C.of E. Primary School
Hutton Henry Colliery (1876 - 1897)
Hutton House
St Francis Village Hall, Hutton Henry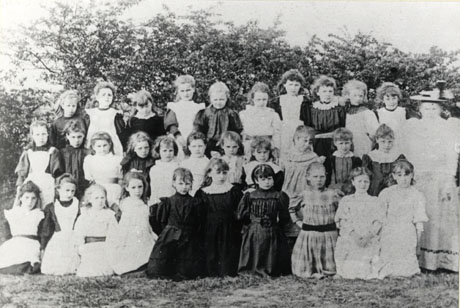 Girls School - Hutton Henry
- "Photograph of thirty one girls and a woman posed against bushes; the photograph has been identified as Hutton Henry Girls' School; the girls appear to be approximately eight or nine …
---
Added by
Simon Cotterill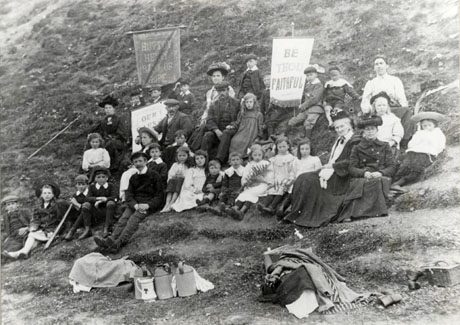 Band Of Hope At Hart - Hutton Henry
- "Photograph showing nine men and women and twenty four children sitting on a hillside accompanied by banners reading: Hutton Henry Band of Hope, Be Thou Faithful and Our Cause ...; …
---
Added by
Simon Cotterill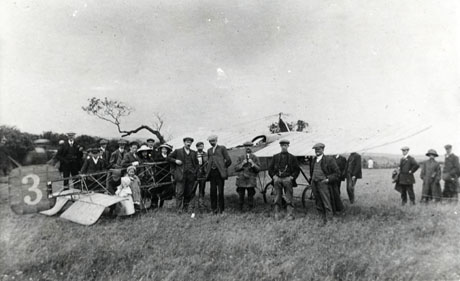 Plane In Barn Field - Hutton Henry
- "Photograph showing a field identified as Barn Field, Hutton Henry, in which is standing a small light aeroplane, the fuselage of which is constructed of open metalwork and the cockpit …
---
Added by
Simon Cotterill
---