Topics > County Durham > Historical Accounts of County Durham
Historical Accounts of County Durham
From JG Bartholomew's Gazetteer of the British Isles (1905):
Durham county palatine and maritime county, in North of England; is bounded North by the Derwent and the Tyne, beyond which is Northumberland ; East by the North Sea; South by the Tees, beyond which is Yorkshire; and West by Cumberland and Westmorland; greatest length (North to South), 40 miles; greatest breadth, 48 miles; length of coast line, 32 miles; area, 649,352 acres.; population 1,187,361. The county is served entirely by the North Eastern Railway. The western portion of the county consists of hill-ranges, enclosing fertile valleys; the eastern portion, in which the prevailing rocks are magnesian limestone and new red sandstone, is more level ; in the central districts are the coal measures. In the valleys, and in .the neighbourhood of the rivers, especially the Tees, the soil is very fertile. The chief corn crops are wheat and oats ; the chief green crops are potatoes and turnips. A hardy breed of horses is raised on the moors in the west, and in the fertile pastures of the valleys a breed of cattle which is unsurpassed for dairy purposes. (For agricultural statistics, see APPENDIX) The principal mineral products are lead, iron, millstone, and coal. The coalfields are the most important in the kingdom. The principal manufactures are chemicals, glass, and earthenware; shipbuilding and sail-making ; papermaking; woollen and worsted stuffs, &c. Salt is extracted from brine at Port Clarence, Haverton Hill, and Greatham. There are also large ironworks and machine factories. Durham has great facilities of transport. The county comprises 243 parishes, the parliamentary and municiple boroughs, of Darlington, Durham, Gateshead, The Hartlepools, South Shields (1 member each), and Sunderland (2 members), the greater part of the parliamentary and municiple borough of Stockton on Tees (i member), and the municiple borough of Jarrow. It is entirely in the diocese of Durham. For parliamentary purposes it is divided into 8 divisions, viz., Jarrow, Houghton le Spring, Chester le Street, North-Westem, Mid, South-Eastern, Bishop Auckland, and Barnard Castle, 1 member for each division.
---
Extract above from: The Survey Gazetteer of the British Isles. Topographical, Statistical and Commercial. Compiled from the 1901 Census and the latest official returns. Editor JG Bartholomew. George Newnes Ltd. (1904). Some abbreviations in the original text have been expanded.
County Durham
County Durham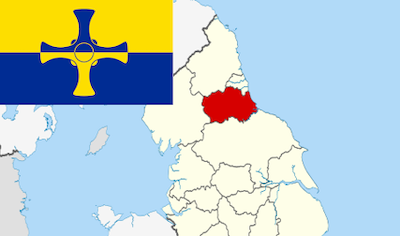 County Durham
- Settlements History Civil Parishes Barnard Castle Bishop Auckland Chester-le-Street Consett Darlington Durham (city) Newton Aycliffe Peterlee Shildon Spennymoor Settlements in County Durham: A AislabyAllensfordAlum Waters Annfield PlainArchdeacon Newton Auckland ParkAukside …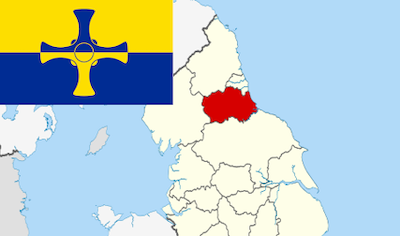 County Durham
- Settlements History Civil Parishes Barnard Castle Bishop Auckland Chester-le-Street Consett Darlington Durham (city) Newton Aycliffe Peterlee Shildon Spennymoor Settlements in County Durham: A AislabyAllensfordAlum Waters Annfield PlainArchdeacon Newton Auckland ParkAukside …
---