Topics > Tyne and Wear > Newcastle upon Tyne > Elswick
Elswick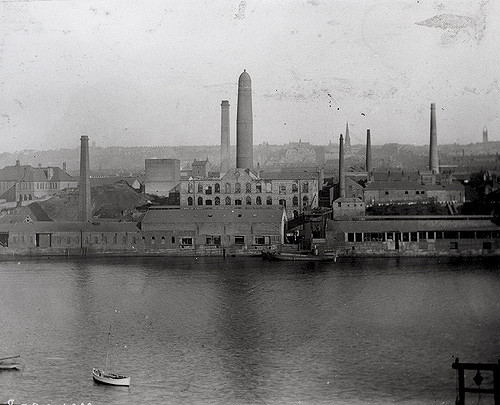 Elswick is an area in the West End of
Newcastle
, bordering the
River Tyne
. Elswick was originally a separate small rural town in Northumberland but became part of Newcastle in 1835 as the city expanded. It has a rich industrial heritage including
Elswick Lead Works
(established 1778) and
Armstrong's Elswick Works
(founded 1847). Neighbourhoods in the ward of Elswick include the Adelaide Terrace area, Bentinck Estate, Condercum and Denhill Park,
Cruddas Park
, Elswick Triangle, Gill Street and the Courts, Grainger Park, Jubilee Estate, North Benwell, the St John's, the St Paul's area, Newcastle Business Park, Newcastle College, and the Metro Radio Arena.
In Roman times the Vallum, a defensive barrier behind Hadrian's Wall, reached its easternmost limit in Elswick. The Wall itself carried on as far as Wallsend.
The township of Elswick had originally formed part of the Barony of Bolam and was owned by Tynemouth Priory from 1120-1539, with a fishery present on the site. One of the earliest references to the coal mining industry of the north east occurs in 1330, when it was recorded that the Prior of Tynemouth let a colliery, called Heygrove, at "Elstewyke" for a rent of £5 per year. Elswick Colliery had 3 pits working from 1860 onwards. Elswick was owned by the Crown from 1539 to 1628, until it was sold by Charles I.
The Priors held a mansion in the middle of Elswick which was later occupied by Elswick Hall. Having been rebuilt a number of times, the last rebuild took place in 1810. The grounds of Elswick Hall became Elswick Park in 1881. Elswick changed significantly in the late 19th Century with the extension of the railway from Carlisle to Newcastle in 1839 and the establishment of Armstrong's manufacturing works in 1847. Population increased rapidly during this period with the construction of Tyneside flats from Scotswood Road to accommodate the workforce.
The Elswick works was founded in 1847 by engineer William George Armstrong. It manufactured hydraulic machinery, cranes and bridges and, later, artillery. In 1882 the company merged with the shipbuilding firm of Charles Mitchell to form Armstrong, Mitchell & Company. Armstrong Mitchell merged again with the engineering firm of Joseph Whitworth in 1897, forming Armstrong, Whitworth & Co.
Elswick station was opened in 1889 to serve the area. It was located at the western end of the Elswick Works, whose workforce made up a significant proportion of travellers. The area suffered as a result of the inter-war and subsequent depressions, culminating in the demolition of the Elswick works. The station was closed and then demolished in 1967.
Text from
Wikipedia
, available under the Creative Commons Attribution-ShareAlike License (accessed: 29/03/2016).
Visit the page:
Elswick, Tyne and Wear
for references and further details. You can contribute to this article on Wikipedia.
Google Map: drag to move the view, zoom in and out using the control (lower right-hand corner); switch to map view (lower left-hand control)
Newcastle upon Tyne
West End
Skinner Burn
Scotswood Road
Elswick Works - Vickers Armstrong
Map and Aerial View
Elswick Shipyard
Buddle Road, Benwell - Elswick
Church of St Paul
Church of St Stephen, Low Elswick
Elswick at War
Elswick Leather Works (1863 - 1971)
Elswick Road
Elswick Township, 1848
Elswick, Historical Account, 1890
Map and Aerial View
RC Church of St Michael
Rye Hill
Skinnerburn Road
St Aidan's Church
Westmorland Road