Topics > Northumberland > Seaton Sluice > Church of St Paul
Church of St Paul
St. Paul's Church in Seaton Sluice was and consecrated in 1961. The building was originally the Village Hall, built in 1903 to commemorate Dr John Ochiltree for his work as a family physician, which was converted into the church. There had been an earlier Church of St Pauls - Rev. Edward Greenlaw, vicar of Earsdon, founded a mission church of St. Paul's in 1886. This earlier church was located in the front part of the former village brewery, and the back part of the building had been used by the United Methodists since the 1850's. It was very unusual at the time for two denominations to share the same building, they also shared the same congregation bell, which had been used in the earlier glass factory.[1]
Seaton Sluice
Churches and Cathedrals
1903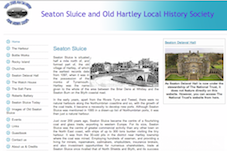 St. Paul's Church
- "St. Paul's Church, at Seaton Sluice, was established in 1886, and was initially housed in an old brewery. Seaton Sluice was then part of Earsdon Parish, and the priest ...
---
Added by
Simon Cotterill
St. Paul's Church Seaton Sluice
- "Knowledge of the early history of the Anglican Church in Seaton Sluice is somewhat sketchy. It was part of the Parish of Earsdon until 1891 when the Parish of Delaval ...
---
Added by
Simon Cotterill
---