Topics > Biglands
Biglands
Biglands is a hamlet in the Allerdale district of Cumbria, located about 3 miles north of Wigton. It is part of the Civil Parish of Aikton, and historically part of Cumberland. The hamlet of Gamelsby is half a mile south-east of Biglands. The River Wampool flows close by, to the east of Biglands.
BIGLANDS, with Gamblesby, a township, in the parish of Aikton, union of Wigton, Cumberland ward, and E. division of Cumberland, 4 miles (N.) from Wigton; containing 187 inhabitants. At Gamblesby is a place of worship for Wesleyans. A sulphureous spring was discovered about 1775, the water of which is much used for cutaneous complaints.
Extract from: A Topographical Dictionary of England comprising the several counties, cities, boroughs, corporate and market towns, parishes, and townships..... 7th Edition, by Samuel Lewis, London, 1848.
Biglands is a hamlet in Cumbria, England. It is located to the north of Gamelsby, and east of the River Wampool.
It is not the location of Milefortlet 1, the first milefortlet to the west of Hadrian's Wall, which is located on the coast overlooking the Solway Firth at Biglands House Farm, about a mile to the west of Bowness-on-Solway and just to the south of Herdhill Scar. The confusion is caused by the proximity and similarity of names.
A school was once located at Biglands, but it closed and was incorporated with Wiggonby school in 1959.
Aikton Civil Parish
Gamelsby
Aikton Parish, 1848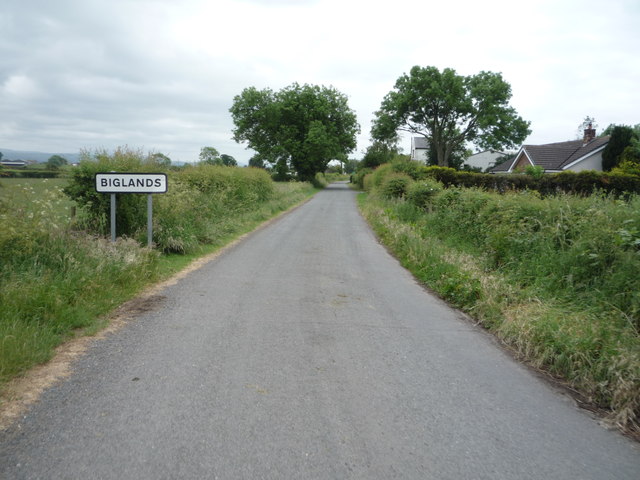 ---