Topics > Northumberland > Civil Parishes in Northumberland > Elsdon Civil Parish > Winter's Gibbet and Steng Cross
Winter's Gibbet and Steng Cross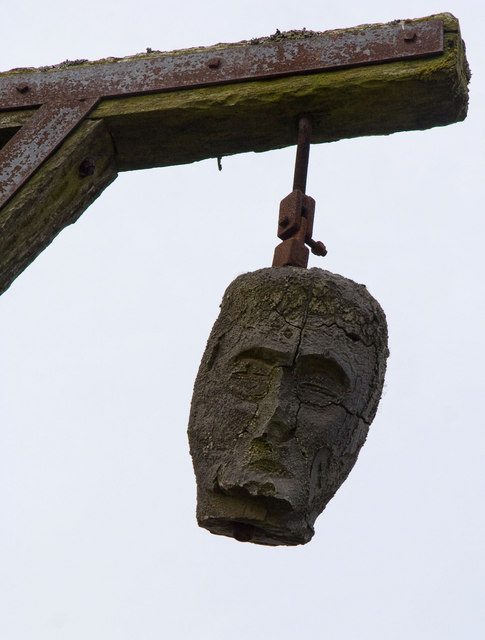 Winter's Gibbet is a 19th century replica of the gallows from which William Winter was hung for the murder of Margaret Crozier in 1791. It is located about 2 miles south-east of Elsdon in Northumberland by Steng Cross. Winter's rotting corpse hung here for many years close to the location of the murder. Steng Cross here, was a medieval roadside cross, at the highest point on the old drover's road from Elsdon. Just along the road was the old smithy where the cattle were shod for their long journey to the market. The gibbet and surviving base of the medieval cross are Grade II listed on the National Heritage List for England.
In 1791 there lived here an old woman named Margaret Crozier, who kept a small shop for the of drapery and other goods. Believing her to be rich, one William Winter, a desperate character, but recently returned from transportation, at the instigation, and with the assistance of two female faws (vendors of crockery and tinwork) named Jane and Eleanor Clark, who in their wanderings had experienced the kindness of Margaret Crozier, broke into the lonely Pele on the night of 29th August 1791, and cruelly murdered the poor old woman, loading the ass they had brought with her goods. The day before they had rested and dined in a sheep fold on Whisker-shield Common, which overlooked the Raw, and it was from a description given of them by a shepherd boy, who had seen them and taken particular notice of the number and character of the nails in Winter's shoes, and also the peculiar gully, or butcher's knife with which he divided the food that brought them to justice.
Comprehensive Guide to the County of Northumberland, by William Weaver Tomlinson, London, 1889.
William Winter, together with Jane and Eleanor Clark were hung for the murder at the Westgate of Newcastle on the 10th of August, 1792. Winter's body was taken to Steng Cross, near the site of the murder; his rotting corpse hung here in chains for many years before the structure was dismantled. It was reminiscent of the gibbeting of Reivers (border outlaws) in times gone by, when bodies were left hanging as a warning to others. In 1867, the English naturalist Walter Trevelyan, at that time owner of the site, had a replica gibbet erected along with a wooden mannequin.[1] The gibbet has been rebuilt on a number of occasions.
Elsdon Civil Parish
Crime
West Gate
1791
Historic Buildings and Monuments in Elsdon Civil Parish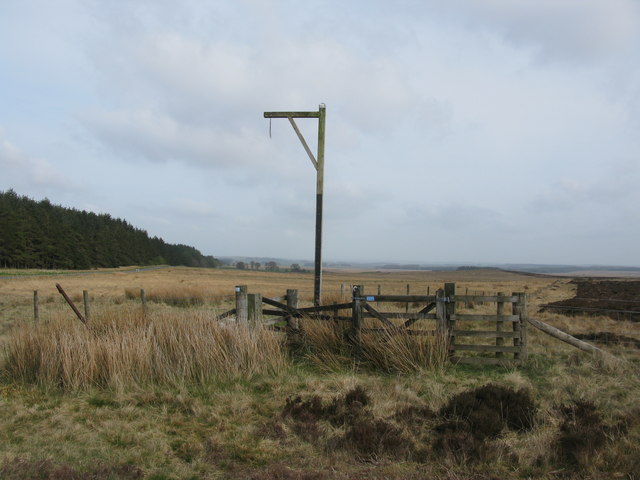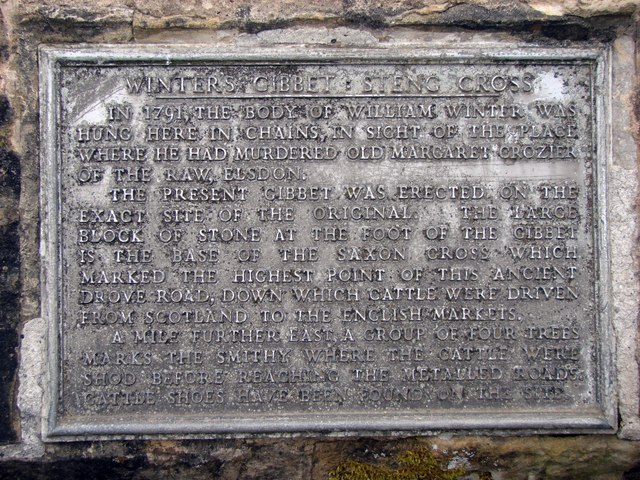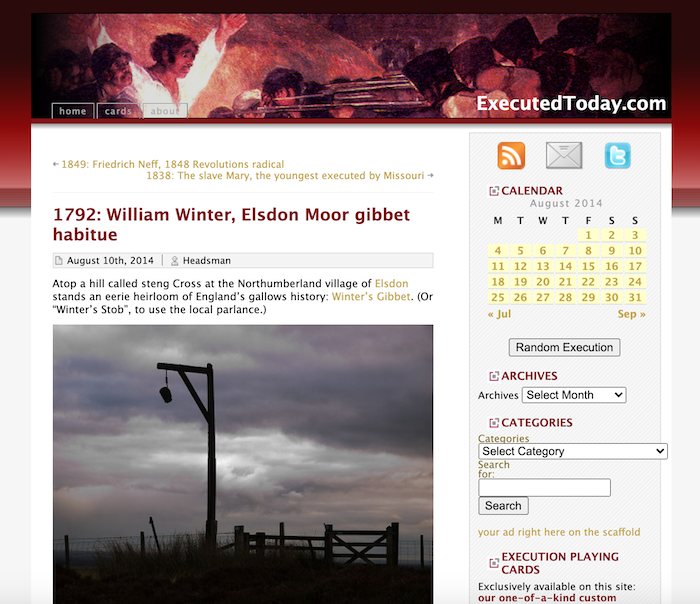 1792: William Winter, Elsdon Moor gibbet habitue
- "Atop a hill called steng Cross at the Northumberland village of Elsdon stands an eerie heirloom of England's gallows history: Winter's Gibbet. (Or "Winter's Stob", to use the local parlance.) …
---
Added by
Simon Cotterill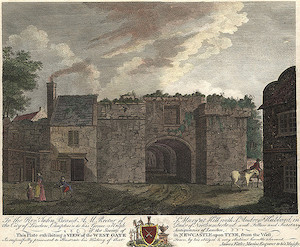 West Gate
- West Gate was the second largest gateway through the Town Walls into Medieval Newcastle, on the main route from the west; and gives its name to todays Westgate Road. It …
from Flickr (flickr)
The head on Winter's Gibbet, Elsdon, Northumberland
---
Pinned by
Peter Smith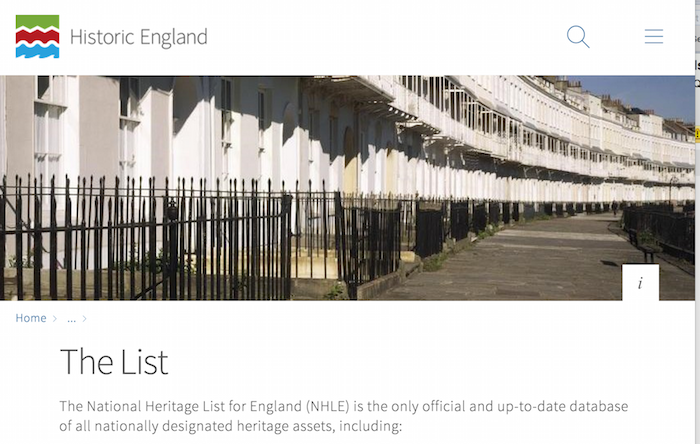 WINTER'S GIBBET AND ADJACENT CROSSBASE OF STENG CROSS - List Entry
- "Gibbet. Wood, the base re-inforced with iron. Tall gibbet, a C19 relica of the gibbet upon which William Winter was executed in 1791 for the murder of Margaret Crozier of …
---
Added by
Simon Cotterill
---