Topics > People in History > Robert Surtees (1779 - 1834)
Robert Surtees (1779 - 1834)
1834 (February 11). Died, at his seat of Mainsforth, aged 55, Robert Surtees, esq., M. A., F.S. A., and the historian of the county of Durham. Mr. Surtees was born in the city of Durham, and after passing his youthful years at Houghton-le-Spring grammar school and Christ Church, Oxford, he entered the Temple in 1800, but on the death of his father, in 1802, before he was of standing to be called to the bar, retired to Mainsforth, and he relinquished his connection with the profession, and almost immediately commenced the compilation of his history, the first volume of which was pub- lished in 1816, the second in 1820, the third in 1823, and the fourth and last volume not having been wholly arranged at the time of his death, was not given to the world until 1840. The biographical sketches in his History of Durham evince the kindli- ness of the author's disposition, and the pedigree and descents of property his laborious research, while the notes disclose the luxuriance of his own imagination, together with an extensive cultivation of the polite literature of ancient and modern times. Towards the neighbouring poor, by whom he was much beloved, he often carried his consideration to a fanciful refinement. He would frequently drop small sums of money on the road, and enjoy the notion of the unexpected pleasure that the next poor person passing by would feel in acquiring them, unencumbered with the debt of gratitude. He extended his sympathies to the brute crea- tion, and in his love for dogs was a successful rival of his friend Sir Walter Scott. His manner was generally distinguished by courtesy and consideration, but false pretension of any sort he could not bring himself to tolerate, and unlucky was the man who, in his presence, ostentatiously affected to know more than he did, for besides that he was unusually ready in wit and sarcasm, it might be said of him on such occasions, as was said of Dr. Johnson, that if his pistol missed fire he would knock you down with the butt end of it. He was buried midst the tears of the surrounding poor on the 15th of February, 1834, in the churchyard of Bishop Middleham, where an elegant monument has been erected to his memory by his widow.
Robert Surtees (1779 – 13 February 1834) was a celebrated English historian and antiquary of his native County Durham.
Life
Surtees was born in Durham, and educated at Kepier School, Houghton-le-Spring, and later at Christ Church, Oxford. Although a student of law he never practised as a lawyer.
From 1802 he spent most of his life at Mainsforth Hall.
By 1804, Surtees had begun collecting material for what was to become his monumental county history, The History of Durham.
He was a studious and sensitive man who did not always have good health. He was hospitable at Mainsforth, and guests included Sir Walter Scott, with whom Surtees frequently corresponded.
Christian faith was central in Surtees's life: he regularly worshipped at Bishop Middleham parish church.
By 1816 the first volume of The History and Antiquities of the County Palatine of Durham was published ("compiled from original records preserved in public repositories and private collections by Robert Surtees").
Two further volumes followed and a final volume was published posthumously in 1840.
The work covers much of the county but does not include Weardale, Teesdale, the Aucklands, Brancepeth, or Durham Castle or Cathedral. James Raine, the Elder compiled The History and Antiquities of North-Durham, 1852, to supply the need.
Never in good health, Surtees complained of a cold in January 1834, complications developed and he died on 13 February 1834, with his wife at his bedside. He was buried in Bishop Middleham churchyard, and a monument to him was later erected in Bishop Middleham Church.
Family
He married Anne Robinson (born 10 January 1785), of Herrington, in 1807.
His wife Anne survived him, living in Mainsforth until her death in Q1, 1868 (registered in Stockton): they had no children. The Surtees Society was founded following his death to continue his work.
Text from
Wikipedia
, available under the Creative Commons Attribution-ShareAlike License (accessed: 15/10/2018).
Visit the page:
Robert Surtees (antiquarian)
for references and further details. You can contribute to this article on Wikipedia.
People in History
Mainsforth Township, 1848
The Surtees Society
Bishop Middleham
Mainsforth
Mainsforth Hall (demolished)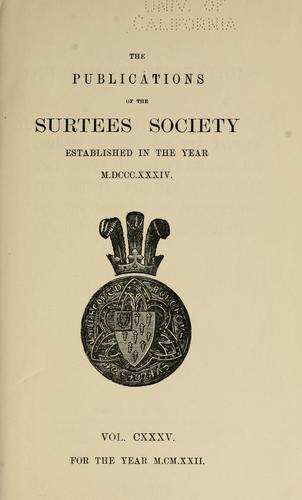 Durham protestations: The returns made to the House of Commons in 1641/2 for the maintenance of the Protestant religion for the county palatine of Durham, for the borough of Berwick-upon-Tweed and the parish of Morpeth.
- Digitised version of the book first published 1922 the Surtees Society by Andrews & Co. and, B. Quaritch, ltd. in Durham, London . eBook in a variety of formats or …
---
Added by
Simon Cotterill
Bishop Middleham
- Overview History Map Street View Bishop Middleham is a village near Sedgefield in County Durham. Bishop Middleham is thought to have Anglo-Saxon origins. There are earthwork ruins of Bishop Middleham Castle …
Mainsforth Hall (demolished)
- Mainsforth Hall was demolished in 1962. The oldest part of the hall dated from the 17th century. It had been the ancestral home of the Surtees family. Today the entrance …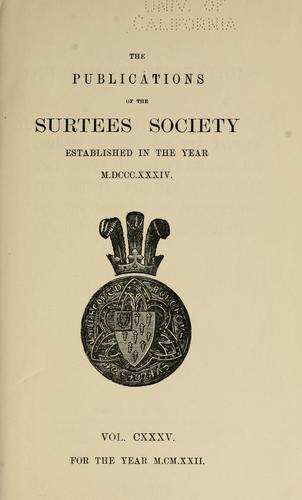 Durham protestations: The returns made to the House of Commons in 1641/2 for the maintenance of the Protestant religion for the county palatine of Durham, for the borough of Berwick-upon-Tweed and the parish of Morpeth.
- Digitised version of the book first published 1922 the Surtees Society by Andrews & Co. and, B. Quaritch, ltd. in Durham, London . eBook in a variety of formats or …
---
Added by
Simon Cotterill
Bishop Middleham
- Overview History Map Street View Bishop Middleham is a village near Sedgefield in County Durham. Bishop Middleham is thought to have Anglo-Saxon origins. There are earthwork ruins of Bishop Middleham Castle …
Mainsforth Hall (demolished)
- Mainsforth Hall was demolished in 1962. The oldest part of the hall dated from the 17th century. It had been the ancestral home of the Surtees family. Today the entrance …
---