Topics > County Durham > Murton
Murton
MURTON, EAST, a township, in the parish of Dalton-le-Dale, union of Easington, N. division of Easington ward and of the county of Durham, 8½ miles (E.N.E.) from Durham; containing 521 inhabitants. The manor and vill were the property of the family of Lumley from an early date to the reign of Elizabeth; the ancient tenure is uniformly described to be by homage and fealty, in free and common socage. The monks of Durham, also, at a remote period received a grant of a small portion of land here from Cendune, son of Walter de Morton. The South Hetton Company opened a valuable mine of coal in the township, in 1843, upon a scale unprecedented in the trade: during the progress of sinking through a quicksand, engine power to the extent of 1500 horses was in operation, and the principal seam of coal was found at a depth of 1,476 feet from the surface. The Durham and Sunderland railway passes through the township.
Extract from: A Topographical Dictionary of England comprising the several counties, cities, boroughs, corporate and market towns, parishes, and townships..... 7th Edition, by Samuel Lewis, London, 1848.
Murton is a village in County Durham, England. Lying six miles (9.7 km) east of the city of Durham and seven miles (11 km) south of Sunderland, it has a population of 4,534, increasing to 7,676 at the 2011 Census.
Originally a rural agricultural hamlet called Morton, the discovery of coal beneath its fields in the 19th century transformed it into an industrial community. 'Morton became known as Murton Colliery or Murton-in-the-Whins following the sinking of the pit in 1838 by South Hetton Coal Company, and the village was a productive coal mining community for over a century. The pit employed over 1000 men at its peak and featured in a Picture Post article showing the 'vesting' of the mine at nationalisation in 1947.
The village also had the South East Durham Cooperative Bakery and a Northern Bus Company garage as added sources of jobs. In 1955 a by product works for coal was established for the production mainly of coke. The mine and other employment opportunities closed in the 1990s along with many other County Durham mines and now the old spoil heaps are host to a retail outlet development Dalton Park, bringing much needed new employment.
History
The discovery of coal beneath the fields of East Durham during the 19th century, transformed the tiny hamlet of Morton into the thriving township of Murton.
Decades later, however, the decision to close Murton's successful colliery almost, but not quite, succeeded in turning the close-knit community into a ghost town. Millions of pounds in Government and private investment is now being pumped into Murton, changing the face of the former pit village on an almost daily basis.
Fewer than 100 people lived in the village of Murton before 1830 but, following the sinking of the mine in 1838, the population grew to 1,387 by 1851. Miners flocked to Murton from across County Durham and Northumberland in the early years, with people later uprooting from Devon, Cornwall and Ireland too. Many of the road and place names reflected the original roots of these pitmen, like the Cornwall estate, and dozens of different accents could be heard in the streets.
Work on the colliery – one of the pioneering mines of the East Durham coalfield, began on 19 February 1838 but it was five years before the first coals were drawn. Problems with pockets of shifting sand and the depth of the magnesium limestone overlying the coal delayed the work, making the project hugely expensive. Late shifts were even introduced for the first time, so that excavation could be carried out around the clock to finish the three-shafted pit as quickly as possible.
Just five years after the colliery opened, however, there was an explosion on 15 August 1848, near the Polka East shaft, which killed 14 miners. The tragedy left villagers shaken, but the village itself continued to flourish. Indeed, by 1856 Murton was almost unrecognisable from the hamlet it had once been. Scores of terraced houses had been built to house the miners and the village now boasted three pubs, a new school, plus gas and coke works. As prospective miners continued to flood in, so the number of tradesmen grew, with Murton Colliery Co-operative Society helping to serve the village by 1890.
As the village flourished, so too did the colliery. It was modernised after World War I and, in 1922, a Koepe friction winding engine was installed in the West Pit. New pithead baths followed in 1939, described as being "of especially pleasant design," and Murtons swimming pool was opened in 1961.
But, despite high productivity and a loyal workforce, the decision was taken to close the pit in 1991. Campaigners fought against the plans, but failed to stop them. The Koepe winding engine was transferred to the Bowes Railway following the controversial closure and, in 1994, the colliery's winding tower was demolished. Murton's once-thriving pit community was now no more.
Timeline
1830: Population 69
1838: Work on pit starts
1843: First coals drawn
1851: Population 1,395
1889: Electricity first used in pit
1892: Murton toll gates removed
1902: Three putters killed in pit, two aged 14, one aged 18
1906: Colliery draws 4,131 tons of coal in one day
1910: Miners strike over Eight Hours Bill
1913: Foundation stone laid for first council house
1914: First public telephone for Murton, based in post office
1922: Cenotaph unveiled
1923: Coal drawn from West Pit for first time
1927: Bus service to Sunderland introduced by Northern buses
1930: First "talking pictures" at Murton Empire
1931: Flush toilets put in colliery houses
1935: Miners started carrying electric lamps
1939: Pit head baths opened
1950: X-ray van visited Murton for the first time
1953: The first paid annual holiday leave of two weeks was introduced
1957: A new library was opened in Barnes Road
1958: Murton Brickworks closed
1961: Murton's swimming pool was opened
1982: First memorial service held to commemorate fatalities at Murton pit
1990: Miners fought to keep the pit open
1991: Murton Colliery was closed
1994: Pit winding tower demolished, despite being listed
Old village streets and their nicknames
Owen Street: Sandgate Rar
Lancaster Street: Double Rar
Green Street: Smokey Rar
Railway Street: Red Tiled Rar
Villiers Street: Wood Rar
Durham Place: Sinkers Rar
Dalton Terrace: Pot Pie Rar
South Street: Plantation Rar
East Street: Cinder Burners Rar
Shipperdon Street: Ower the Field
Murton Street: Cross Rar
Old Pilgrim Street: Boiler Rar
New Pilgrim Street: Low Rar
Pilgrim Street: High Rar
Model Street: Wagon Rar
Governance
An electoral ward in the same name exists. This ward includes Dalton-le-Dale and surrounding areas and has a total population taken at the 2011 Census of 7,975.
Economy
This is a chart of trend of regional gross value added of County Durham at current basic prices published (pp. 240–253) by Office for National Statistics with figures in millions of British Pounds Sterling.
| Year | Regional Gross Value Added | Agriculture | Industry | Services |
| --- | --- | --- | --- | --- |
| 1995 | 4,063 | 47 | 1,755 | 2,261 |
| 2000 | 4,783 | 40 | 1,840 | 2,904 |
| 2003 | 5,314 | 39 | 1,978 | 3,297 |
Climate
Like the rest of the United Kingdom, Murton has a temperate climate. At the average annual rainfall is lower than the national average of . Equally there are only around 121.3 days where more than of rain falls compared with a national average of 154.4 days. The area sees on average 1374.6 hours of sunshine per year, compared with a national average of 1125.0 hours. There is frost on 52 days compared with a national average of 55.6 days. Average daily maximum and minimum temperatures are compared with a national averages of respectively.
The table below gives the average temperature and rainfall figures taken between 1971 and 2000 at the Met Office weather station in Durham:
Climate data for Durham, elevation: 102 m (335 ft), 1981–2010 normals, extremes 1850–present
Month
Jan
Feb
Mar
Apr
May
Jun
Jul
Aug
Sep
Oct
Nov
Dec
Year
Record high °C (°F)
16.7
(62.1)
17.4
(63.3)
21.7
(71.1)
24.1
(75.4)
27.8
(82.0)
30.6
(87.1)
33.6
(92.5)
32.5
(90.5)
30.0
(86.0)
25.0
(77.0)
19.4
(66.9)
15.9
(60.6)
33.6
(92.5)
Average high °C (°F)
6.6
(43.9)
7.2
(45.0)
9.5
(49.1)
11.9
(53.4)
15.0
(59.0)
17.6
(63.7)
20.1
(68.2)
19.8
(67.6)
17.2
(63.0)
13.3
(55.9)
9.4
(48.9)
6.7
(44.1)
12.9
(55.2)
Daily mean °C (°F)
3.8
(38.8)
4.1
(39.4)
5.9
(42.6)
7.8
(46.0)
10.6
(51.1)
13.3
(55.9)
15.6
(60.1)
15.4
(59.7)
13.1
(55.6)
9.8
(49.6)
6.4
(43.5)
3.9
(39.0)
9.1
(48.4)
Average low °C (°F)
0.9
(33.6)
0.9
(33.6)
2.3
(36.1)
3.7
(38.7)
6.1
(43.0)
9.0
(48.2)
11.1
(52.0)
11.0
(51.8)
9.0
(48.2)
6.3
(43.3)
3.4
(38.1)
1.1
(34.0)
5.4
(41.7)
Record low °C (°F)
−17.2
(1.0)
−18.3
(−0.9)
−15.0
(5.0)
−11.1
(12.0)
−4.4
(24.1)
−1.1
(30.0)
1.1
(34.0)
0.6
(33.1)
−1.1
(30.0)
−5.5
(22.1)
−8.8
(16.2)
−16.6
(2.1)
−18.3
(−0.9)
Average precipitation mm (inches)
52.3
(2.06)
41.8
(1.65)
44.6
(1.76)
52.7
(2.07)
44.2
(1.74)
55.4
(2.18)
54.0
(2.13)
60.8
(2.39)
55.4
(2.18)
60.9
(2.40)
72.0
(2.83)
57.0
(2.24)
651.1
(25.63)
Average precipitation days

(≥ 1.0 mm)

11.4
9.3
9.7
9.5
9.2
9.7
9.0
9.6
9.3
11.3
12.3
11.7
122.0
Mean monthly sunshine hours
58.6
80.3
115.5
150.3
181.7
164.8
172.3
167.3
134.5
102.8
66.4
51.2
1,445.4
Source 1: Met Office
Source 2: Durham Weather UK


Text from
Wikipedia
, available under the Creative Commons Attribution-ShareAlike License (accessed: 21/11/2020).
Visit the page:
Murton, County Durham
for references and further details. You can contribute to this article on Wikipedia.
County Durham
Dalton-le-Dale Parish, 1848
Murton Civil Parish, County Durham
Map and Aerial View
Church of the Holy Trinity, Murton
Map and Aerial View
Memorial to William McNally
Murton at War
Murton Colliery (1843-1991)
Ribbon Academy, Murton
St. Joseph's RC Church, Murton
War Memorial, Murton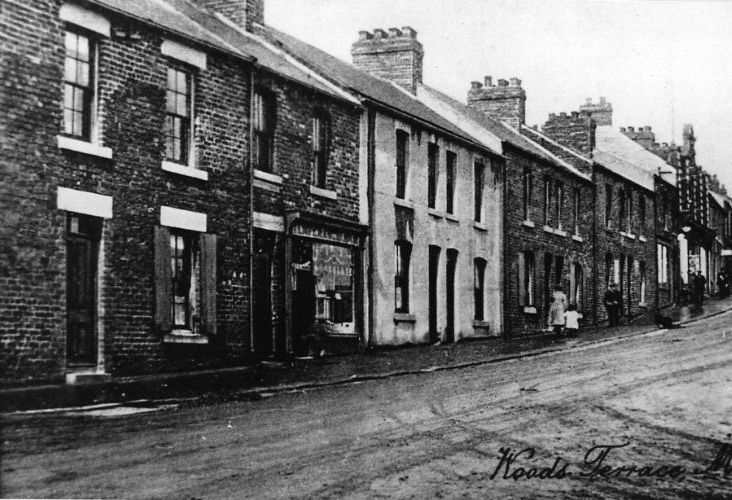 Woods Terrace, Murton, in around 1907

---
Added by
Simon Cotterill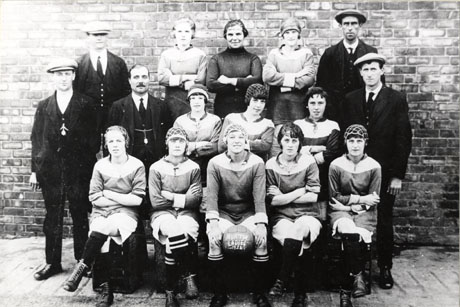 Ladies Football Team - Murton
- "Photograph of eleven women in football strip, posed against a brick wall, with five men in suits; the women are wearing football shirts, shorts, socks, boots and hairnets; they have …
---
Added by
Simon Cotterill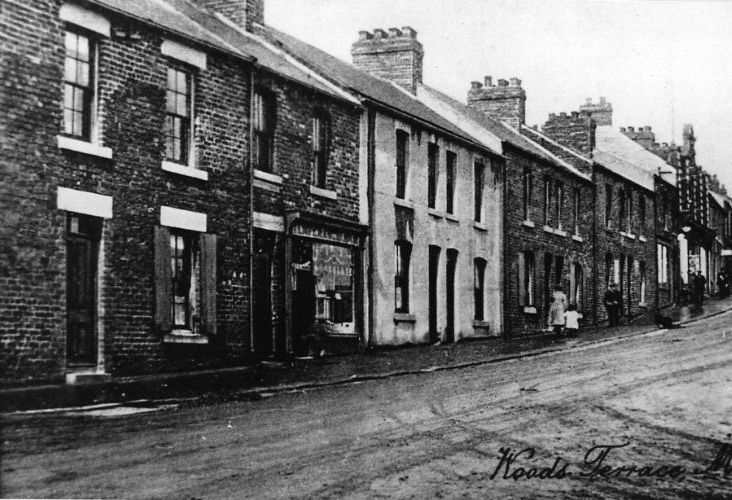 Woods Terrace, Murton, in around 1907

---
Added by
Simon Cotterill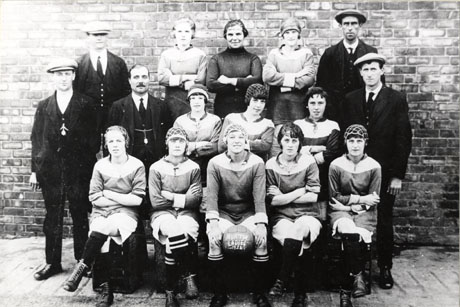 Ladies Football Team - Murton
- "Photograph of eleven women in football strip, posed against a brick wall, with five men in suits; the women are wearing football shirts, shorts, socks, boots and hairnets; they have …
---
Added by
Simon Cotterill
---