Topics > Museums, Archives, Galleries and Collections > Laing Art Gallery
Laing Art Gallery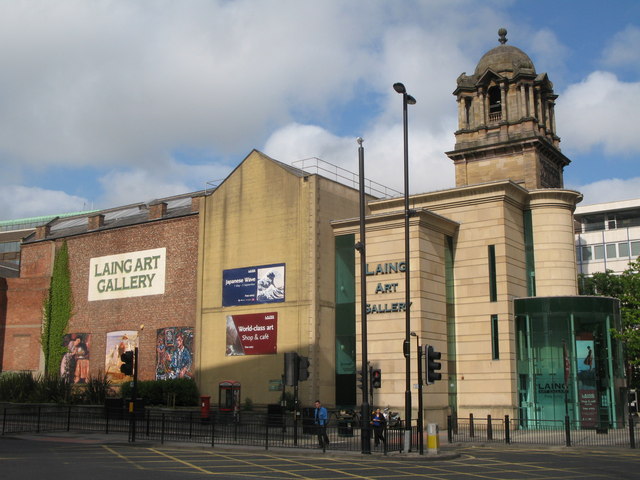 The gallery is free to enter and is located on a pedestrianised section of New Bridge Street by its junction with John Dobson Street. The gallery is named after Alexander Laing, who in 1900, offered to pay for the gallery to be built, to celebrate his 50 years of successful business in Newcastle. The gallery first opened to the public on 13th October 1904. The Laing is managed by Tyne & Wear Archives & Museums; the gallery is a Grade 2 Listed building on the National Heritage List for England.
"The gallery today is home to an internationally important collection of art, focusing on British oil paintings, watercolours, ceramics, silver and glassware. The Laing Art Gallery holds regularly changing exhibitions of historic, modern and contemporary art, and events including artist and curator talks and family activities. On the ground floor of the Laing is the Northern Spirit gallery which displays outstanding artwork and objects produced locally by people including Thomas Bewick, Ralph Hedley and John Martin. You can also see Newcastle silver, glass and ceramics on show. Also on the ground floor is the shop, café, learning space, under fives' area and the beautiful Marble Hall, which is occupied by artworks by Henry Moore and Turner Prize nominee Paul Noble. Upstairs is the 18th and 19th century display, including internationally important paintings by John Martin, Paul Gauguin and Burne-Jones." (Laing Art Gallery)
The Laing Art Gallery in Newcastle upon Tyne, England, is located on New Bridge Street. The gallery was designed in the Baroque style with Art Nouveau elements by architects Cackett and Burns Dick and is now a Grade II listed building. It was opened in 1904 and is now managed by Tyne & Wear Archives & Museums and sponsored by the Department for Culture, Media and Sport. In front of the gallery is the Blue Carpet. The building is Grade II listed.
The gallery collection contains paintings, watercolours and decorative historical objects, including Newcastle silver. In the early 1880s, Newcastle was a major glass producer in the world and enamelled glasses by William Beilby are on view along with ceramics (including Maling pottery), and diverse contemporary works by emerging UK artists. It has a programme of regularly rotating exhibitions and has free entry.
The gallery's collection of seminal paintings includes John Martin's dramatic The Destruction of Sodom and Gomorrah, as well as important works by Sir Joshua Reynolds, Edward Burne-Jones (Laus Veneris), William Holman Hunt (Isabella and the Pot of Basil), Ben Nicholson and others. Local paintings include pictures by Ralph Hedley. There is also an extensive collection of 18th and 19th-century watercolours and drawings, including work by J. M. W. Turner, John Sell Cotman etc.
Text from
Wikipedia
, available under the Creative Commons Attribution-ShareAlike License (accessed: 21/11/2017).
Visit the page:
Laing Art Gallery
for references and further details. You can contribute to this article on Wikipedia.
Museums, Archives, Galleries and Collections
Ralph Hedley (1848-1913)
Museums & Galleries in Newcastle-Gateshead Centre
Art Galleries
James Wilson Carmichael (1800 - 1868)
Tyne & Wear Archives & Museums
Grade II Listed
John Martin (1789 - 1854)
John Dobson Street
Art
Thomas Bewick (1753-1828)
New Bridge Street
1904
Blue Carpet by Thomas Heatherwick
Historic Buildings and Monuments in Newcastle
Thomas Miles Richardson Jnr (1813-1890)