Topics > Kirkbride
Kirkbride
Kirkbride is a village and civil parish in Cumbria in the north west of England. The civil parish population at the 2011 census was 489. Significant remains of ancient history are close to Kirkbride including the Kirkbride Roman fort and Hadrian's Wall some miles to the north. Hadrian's Wall in this western reach and the Kirkbride fort were originally of turf and timber construction due to the paucity of available stone in this part of England around the Solway Plain; the Wall was later rebuilt in stone.
The earliest recorded history of Kirkbride derives from the Roman occupation period; in 122 AD, the Romans constructed Hadrian's Wall, which incorporated the Vallum earthwork, and was initially made chiefly of turf and timber in the western reaches such as near Kirkbride. It is thought that Kirkbride Fort predates Hadrian's Wall and was built as part of the Stanegate frontier. The Wall was designed primarily to prevent entrance by small bands of raiders or unwanted immigration from the north, not as a fighting line for a major invasion according to Stephen Johnson.
LIDAR photography has proved the existence of two Roman roads linking Kirkbride Roman fort with other Roman forts. One road led north-east to the nearby fort of Coggabata on Hadrian's Wall at Drumburgh. The other longer road led roughly south-south-east to the large Roman fort at Old Carlisle, just south of Wigton. The road did not follow the modern direct route to Wigton, but instead skirted the east side of the River Wampool past Biglands and Gamelsby, and then turned south.
Text from
Wikipedia
, available under the Creative Commons Attribution-ShareAlike License (accessed: 08/10/2019).
Visit the page:
Kirkbride, Cumbria
for references and further details. You can contribute to this article on Wikipedia.
River Wampool
Angerton
Kirkbride Civil Parish
Kirkbride Parish, 1848
Church of St Bride, Kirkbride
Kirkbride Airfield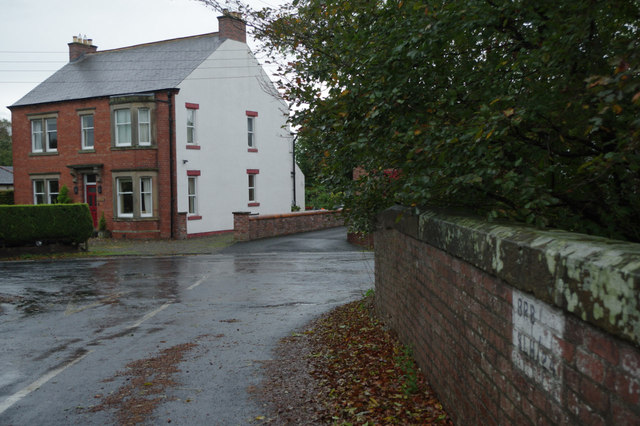 from Flickr (flickr)
Sheep on Church Avenue, Kirkbride, Cumberland
---
Pinned by
Peter Smith
Angerton
- Overview Map Street View Angerton is a hamlet in Cumbria, primarily in the Allerdale district and boardering the South Lakeland district. The settlement is located almost immediately north of Kirkbride …
---