Isaac Holden (1804 - c1857)
Isaac Holden, was born at Redheugh,
Mohope
in c.
1804
and baptised at
St Marks Church
,
Ninebanks
in 1805. His began working life as a lead miner at the
Mohope Lead Mine
and then at West Allen. Later on, he became a tea seller and community fundraiser travelling around the North Pennines. Holden helped to raise funds for the re-building of the 's
Wesleyan Trinity Chapel
in
Allendale
in 1839. He raised money for the 'Holden hearse', which he presented to the people of the West Allen valley in 1856, kept at the
Hearse House in Ninebanks
. The 36-mile Isaacs Tea Trail is a circular walk named after him. Ninebanks Hearse House
- The hearse house at Ninebanks was store the 'Holden Hearse' gifted to the West Allen Valleys community by local philanthropist Isaac Holden in 1856. Victorian society valued 'dignity in death' ...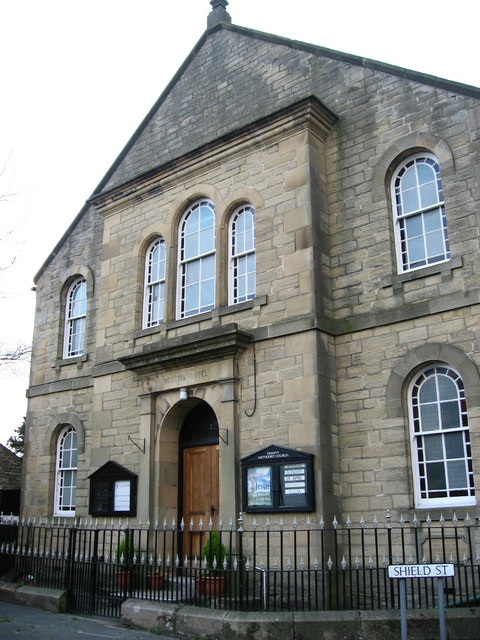 Trinity Methodist Church, Allendale
- Overview Map Street View  
Mohope
- Takes its name from the area around Mohope Burn in the West Allens district in Northumberland.
Mohope Lead Mines
- The Mohope Head Lead Mine and associated ore works were operating between the 1820s and the 1850s. The remains of the lead mine which are still visible today include an ...
---