Topics > Tyne and Wear > North Tyneside > Tynemouth > Black Middens Rocks > Black Middens Fable
Black Middens Fable
Extract from: JOHN ROBINSON (1894), ILLUSTRATED HANDBOOK TO THE RIVERS Tyne ,Blyth,& Wansbeck; ALSO A GUIDE TO TYNEMOUTH, CULLERCOATS, WHITLEY, MONKSEATON, ST. MARY'S ISLE, HARTLEY, SEATON DELAVAL, BLYTH, NEWBIGGIN, WITH THE LEGENDS AND TRADITIONS OF THE COAST; AND A Glance Guide to Newcastle.
THE BLACK MIDDENS
At the foot of the rocks on which the Life Brigade House and the Monument stands, are the dangerous reef of rocks known as the Black Middens. Concerning the origin of the Black Middens, there is an old legend which is interesting from the fact it is the first historical struggle for supremacy between the old presiding deity of the River Tyne and its present acknowledged patron. The Giant Cor, who claimed the Tyne as his own special property, and who dwelt on its banks where his name is now associated with the village— once took it into his head to shut the tide out of the river. In order to do this effectually, he brought lapfuls of stones from Newbiggin, Hartley, and Whitley points and threw them into the entrance to the Tyne, just within the Bar. But King Neptune, riding upon the tide twice a day to wanton with his Dolphins upon the fresh water, swept these stones out of the main channel, leaving the entrance clear, but left them in a heap near the shore on the north side; when from the earliest records we have of the Roman and Danish invasions until the present century, they have been the scenes of wrecks, and hundreds of valuable lives lost upon them. Here the passenger steamer "Stanley" was lost in November, 1864, and twenty-six of the passengers drowned, notwithstanding the heroic endeavours of the coastguardsmen. On the same night other two vessels were dashed to pieces upon these fatal rocks. It was here, also, that on February 27th, 1827, the "Betsy Cains" was wrecked, which tradition said was the same vessel, the Princess Mary, that brought King William the Third, of Boyne Water fame, to England in 1688.
The erection of the two magnificent piers at the mouth of the river have, however, entirely removed the danger of these dreaded Black Middens; the spell of the Old Giant Cor has been broken, and the safety of the Tyne as a harbour of refuge is now universally acknowledged; the fact that 515 vessels bound to other ports having safely entered the Tyne for refuge in one year, in addition to a large number of loaded vessels put back for shelter after leaving the river, is a striking proof of its perfect safety.
Prior's Haven < Robinson, 1894 > Lifeboats and Lightships
Black Middens Rocks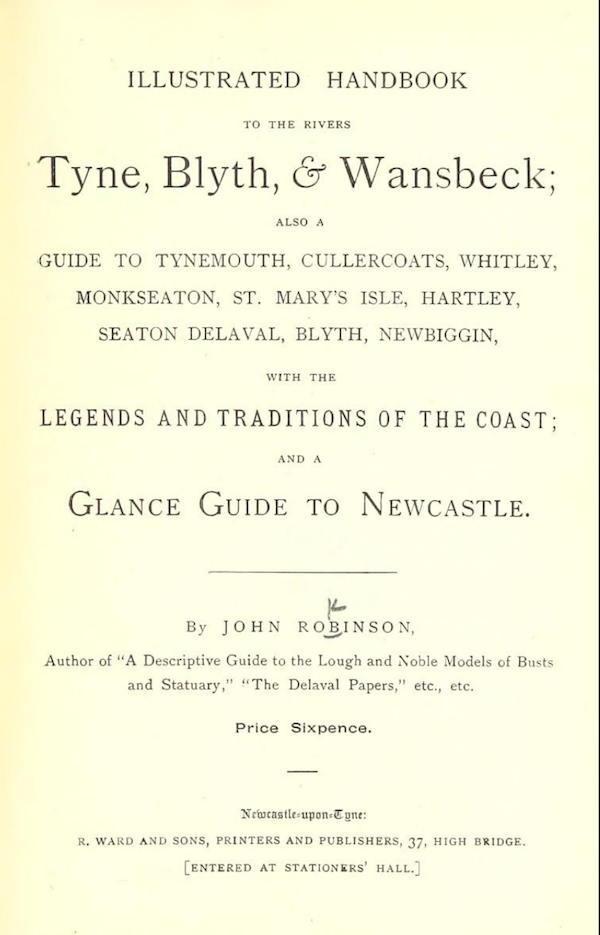 JOHN ROBINSON (1894), ILLUSTRATED HANDBOOK TO THE RIVERS Tyne , Blyth, & Wansbeck etc.
- JOHN ROBINSON (1894), ILLUSTRATED HANDBOOK TO THE RIVERS Tyne ,Blyth,& Wansbeck; ALSO A GUIDE TO TYNEMOUTH, CULLERCOATS, WHITLEY, MONKSEATON, ST. MARY'S ISLE, HARTLEY, SEATON DELAVAL, BLYTH, NEWBIGGIN, WITH THE LEGENDS …
---
Added by
Simon Cotterill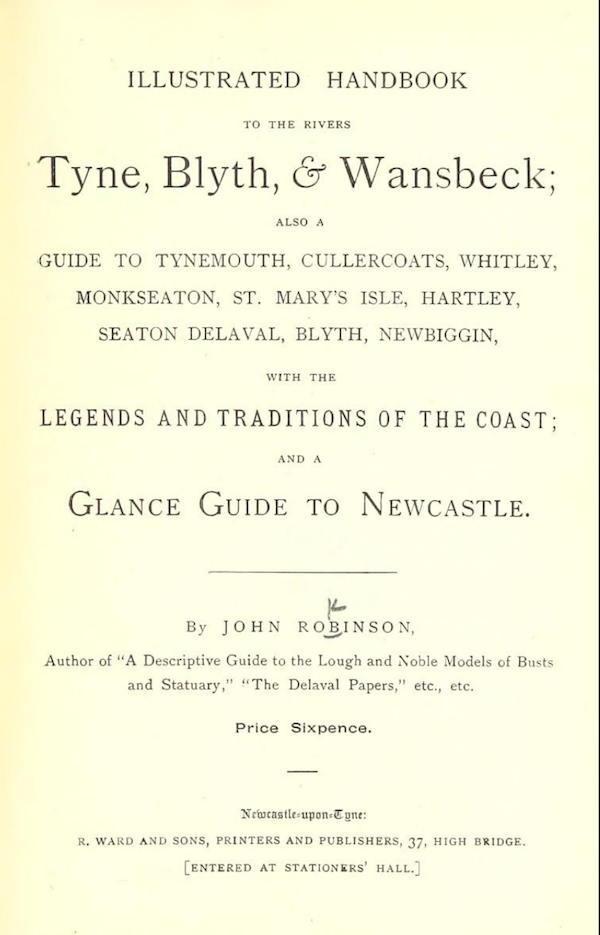 JOHN ROBINSON (1894), ILLUSTRATED HANDBOOK TO THE RIVERS Tyne , Blyth, & Wansbeck etc.
- JOHN ROBINSON (1894), ILLUSTRATED HANDBOOK TO THE RIVERS Tyne ,Blyth,& Wansbeck; ALSO A GUIDE TO TYNEMOUTH, CULLERCOATS, WHITLEY, MONKSEATON, ST. MARY'S ISLE, HARTLEY, SEATON DELAVAL, BLYTH, NEWBIGGIN, WITH THE LEGENDS …
---
Added by
Simon Cotterill
---