Topics > Transport and Travel > Sailing > Lifeboats > Lifeboats and Lightships - Historic Account
Lifeboats and Lightships - Historic Account
Extract from: JOHN ROBINSON (1894), ILLUSTRATED HANDBOOK TO THE RIVERS Tyne ,Blyth,& Wansbeck; ALSO A GUIDE TO TYNEMOUTH, CULLERCOATS, WHITLEY, MONKSEATON, ST. MARY'S ISLE, HARTLEY, SEATON DELAVAL, BLYTH, NEWBIGGIN, WITH THE LEGENDS AND TRADITIONS OF THE COAST; AND A Glance Guide to Newcastle.
LIFEBOATS AND LIGHTSHIPS.
Among the numerous appliances for the saving of life at sea, and the dangerous rocks and sands which abound in all parts of the world's coast line, the Lifeboat is the most conspicuous. Next to the Lifeboat comes the Lightship: the first-named has saved thousands of lives when vessels have been washed upon the rocks; the latter has prevented thousands of vessels in all parts of the world from being wrecked. The invention of both these life-saving appliances and aids to safe navigation were first brought before the world on the banks of the Tyne. The Lifeboat was the invention of William Wouldhave and Henry Greathead, of South Shields, and the Lightship was first suggested by Mr. Henry Taylor, of North Shields. The Life Brigade institution was also first established at the mouth of the Tyne. There is yet another institution which the Tyne has the honour to have created, the Sailors' Home; those three institutions are now established in all parts of the world "where men go down to the sea in ships." The vicinity of the Prior's Haven, is also associated with another famous Legend, which is worthy of the classic deeds of mythological gods themselves; it was on the plateau above the haven, where the Spanish Battery now stands, that the famous battle between the Danish Invader, Red Eric, and Lord Delaval took place.
The Black Middens < Robinson, 1894 > Delaval and Red Eric
Lifeboats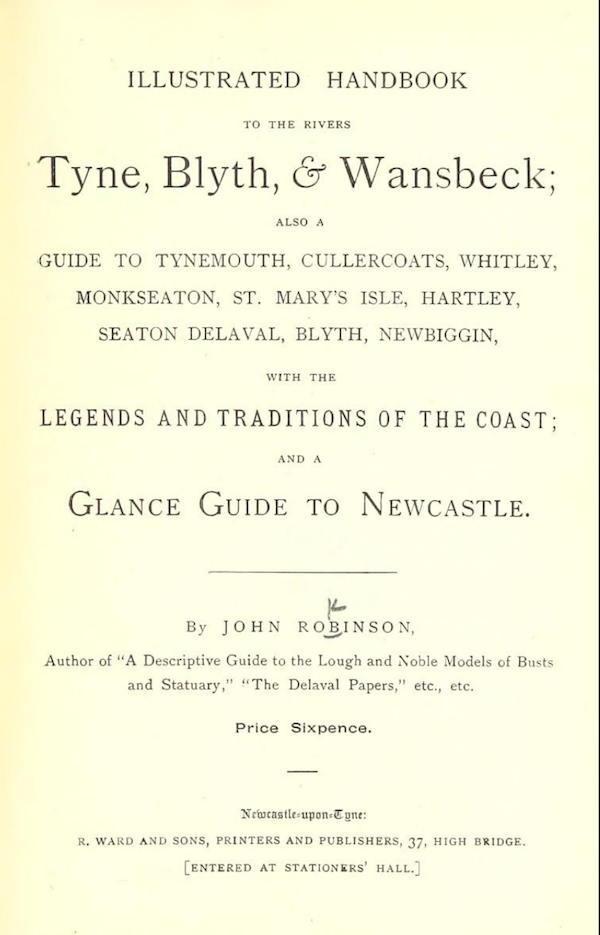 JOHN ROBINSON (1894), ILLUSTRATED HANDBOOK TO THE RIVERS Tyne , Blyth, & Wansbeck etc.
- JOHN ROBINSON (1894), ILLUSTRATED HANDBOOK TO THE RIVERS Tyne ,Blyth,& Wansbeck; ALSO A GUIDE TO TYNEMOUTH, CULLERCOATS, WHITLEY, MONKSEATON, ST. MARY'S ISLE, HARTLEY, SEATON DELAVAL, BLYTH, NEWBIGGIN, WITH THE LEGENDS …
---
Added by
Simon Cotterill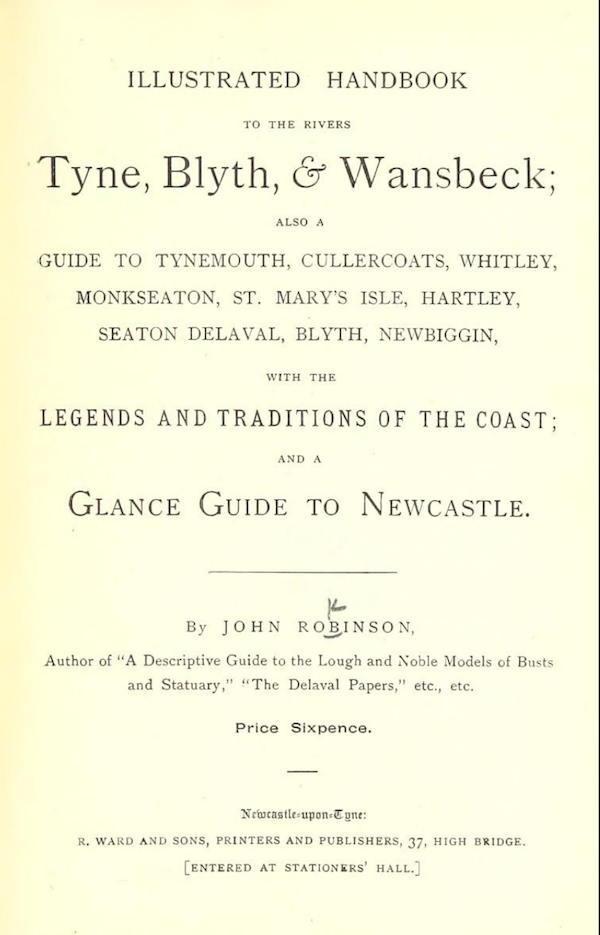 JOHN ROBINSON (1894), ILLUSTRATED HANDBOOK TO THE RIVERS Tyne , Blyth, & Wansbeck etc.
- JOHN ROBINSON (1894), ILLUSTRATED HANDBOOK TO THE RIVERS Tyne ,Blyth,& Wansbeck; ALSO A GUIDE TO TYNEMOUTH, CULLERCOATS, WHITLEY, MONKSEATON, ST. MARY'S ISLE, HARTLEY, SEATON DELAVAL, BLYTH, NEWBIGGIN, WITH THE LEGENDS …
---
Added by
Simon Cotterill
---