Topics > Cumbria > Backbarrow > Backbarrow Ironworks
Backbarrow Ironworks
Established in 1711. Isaac Wilkinson worked here, he developed a furnace fuelled by charcoal and was one of the first of its kind in the UK.The main products of the ironworks were gun carriages, cannon and cannon balls. Iron ore from Low Furness would arrive at the quays in Haverthwaite and then be transported to Backbarrow by horse and cart. The old furnace is believed to be the only remaining example of its type. After 256 years, Backbarrow ironworks closed in 1967, after which the site fell into into disrepair.
The site was partially developed as a 'Live/Work' scheme of offices and homes, but this was flooded in November 2009. Planning permission was then been granted to preserve the historical site, erect flood defences and convert the buildings into affordable apartments.
"The surviving structures of Backbarrow Ironworks represent the best illustration nationally of iron-smelting development from the early C18 to C20. Repairs to the core part of the ironworks ... are nearing completion. The wider site is being developed as residential units, scheduled for completion in early 2020. Backbarrow Ironworks Heritage Trust will be taking on management of the monument once complete." (Heritage at Risk Register, Historic England, 2019)
Backbarrow
Isaac Wilkinson (1695 - 1784)
Iron and Steel Making
Historic Buildings and Monuments in Backbarrow & Haverthwaite CP
Low Wood Bridge, over River Leven
Scheduled Monument Backbarrow Ironworks blowing engine
---
Pinned by
Edmund Anon
Backbarrow Ironworks - blowing engine house
---
Pinned by
Edmund Anon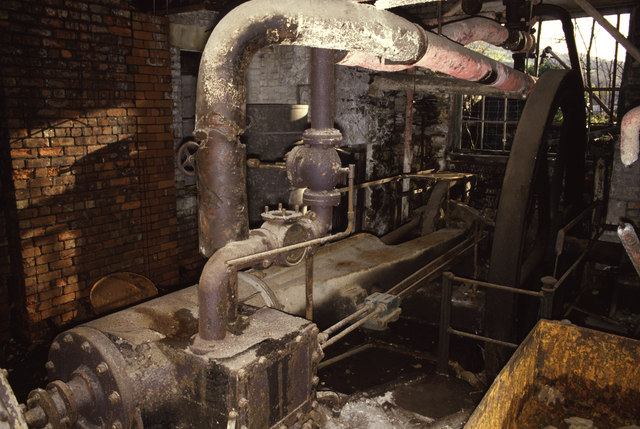 Backbarrow Ironworks - steam blowing engine
---
Pinned by
Edmund Anon
Pouring molten iron, Backbarrow, Cumbria - Educational Images
- "This period photograph shows an iron worker pouring molten metal into pig beds. The moulds used are nothing more elaborate than carefully shaped areas of fine sand. Note how the ...
---
Added by
Edmund Anon
---