Topics > Tyne and Wear > North Tyneside > Tynemouth > Tynemouth Pier and Lighthouse > Historical Account - Piers at the mouth of the Tyne
Historical Account - Piers at the mouth of the Tyne
Extract from: JOHN ROBINSON (1894), ILLUSTRATED HANDBOOK TO THE RIVERS Tyne ,Blyth,& Wansbeck; ALSO A GUIDE TO TYNEMOUTH, CULLERCOATS, WHITLEY, MONKSEATON, ST. MARY'S ISLE, HARTLEY, SEATON DELAVAL, BLYTH, NEWBIGGIN, WITH THE LEGENDS AND TRADITIONS OF THE COAST; AND A Glance Guide to Newcastle.
THE PIERS OR BREAKWATERS
At the foot of the ancient Castle and Abbey, which have gathered round them a halo of sacred and historic interest, is one of the most stupendous modern engineering achievements of the kind in any part of the world. The Piers, or Breakwaters, on each side of the mouth of the Tyne, are among the wonders of the age. The length of the South Pier is about a mile in length; that on the North, which has to receive the full force of the north-east gales to which it is exposed, is about three-quarters of a mile long, and is the favourite promenade of the coast. No finer sight can be witnessed in England, than the view from the pier at high water tide, of fleets of steamers aud sailing vessels of all kinds leaving and entering the Tyne. Whether at noonday or midnight the scene from the pier is one never to be forgotten. The action of the storms upon the rocks below the castle walls, facing the sea, has produced a curious artistic effect. One of the most remarkable is the formation of a well defined profile of a man's face. Seen from the south end of the pier this profile has amost striking resemblance to a well-known historical face.
Tynemouth Castle < Robinson, 1894 > Prior's Haven
Tynemouth Pier and Lighthouse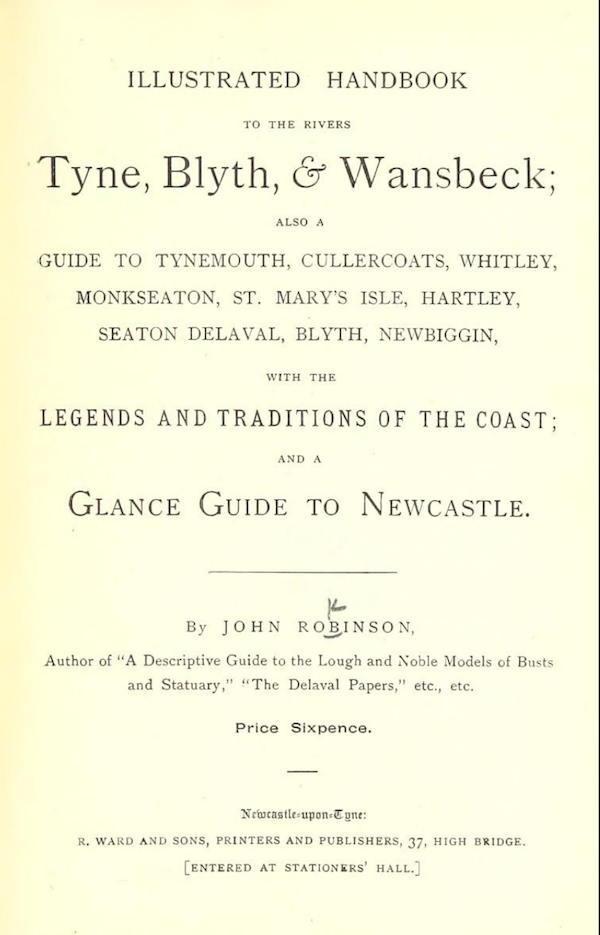 JOHN ROBINSON (1894), ILLUSTRATED HANDBOOK TO THE RIVERS Tyne , Blyth, & Wansbeck etc.
- JOHN ROBINSON (1894), ILLUSTRATED HANDBOOK TO THE RIVERS Tyne ,Blyth,& Wansbeck; ALSO A GUIDE TO TYNEMOUTH, CULLERCOATS, WHITLEY, MONKSEATON, ST. MARY'S ISLE, HARTLEY, SEATON DELAVAL, BLYTH, NEWBIGGIN, WITH THE LEGENDS …
---
Added by
Simon Cotterill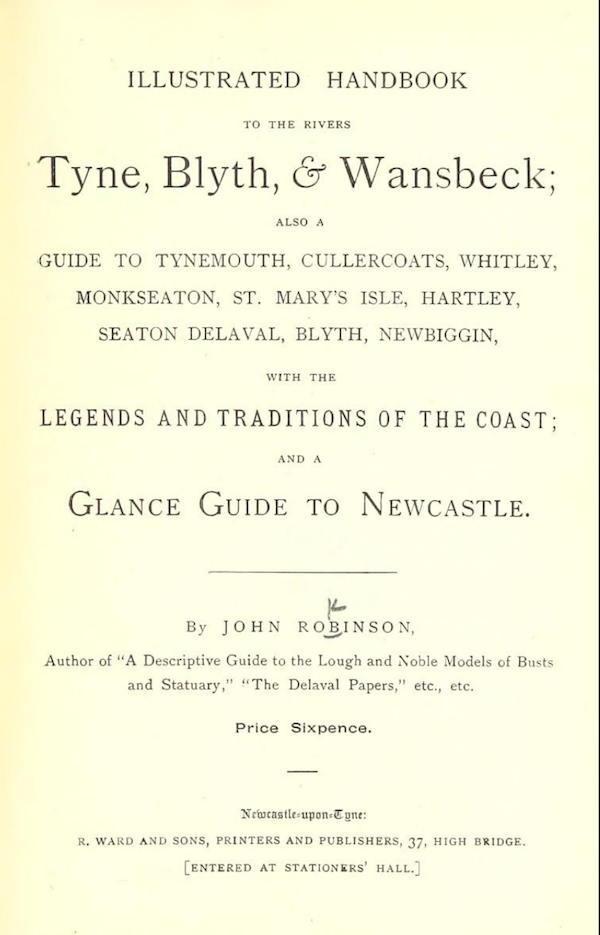 JOHN ROBINSON (1894), ILLUSTRATED HANDBOOK TO THE RIVERS Tyne , Blyth, & Wansbeck etc.
- JOHN ROBINSON (1894), ILLUSTRATED HANDBOOK TO THE RIVERS Tyne ,Blyth,& Wansbeck; ALSO A GUIDE TO TYNEMOUTH, CULLERCOATS, WHITLEY, MONKSEATON, ST. MARY'S ISLE, HARTLEY, SEATON DELAVAL, BLYTH, NEWBIGGIN, WITH THE LEGENDS …
---
Added by
Simon Cotterill
---