Topics > Northumberland > Blyth > Historical Account of Blyth, 1894
Historical Account of Blyth, 1894
Extract from: JOHN ROBINSON (1894), ILLUSTRATED HANDBOOK TO THE RIVERS Tyne ,Blyth,& Wansbeck; ALSO A GUIDE TO TYNEMOUTH, CULLERCOATS, WHITLEY, MONKSEATON, ST. MARY'S ISLE, HARTLEY, SEATON DELAVAL, BLYTH, NEWBIGGIN, WITH THE LEGENDS AND TRADITIONS OF THE COAST; AND A Glance Guide to Newcastle.
BLYTH
FEW towns in Northumberland have developedso rapidly in commercial importance as the town of Blyth. From a small harbour of little or no importance in the first half of this century, it has during the last two decades rushed to the foremost position in the United Kingdom with a coal export trade of some magnitude. As a health resort or watering place it has, however, its position to make in the list of attractions of seaside towns. Yet it has many advantages, and the superior class of houses which are now being erected facing the sea banks are calculated to make it a favourable seaside resort; the sands are all that can be desired, and being a continuation of Hartley Sands, are three and a half miles in length. The leading inhabitants of the town are fully alive to the needs of their visitors, and its sanitary, intellectual, and recreative facilities are far in advance of most seaside watering places. From Blyth there is easy access to the upper reaches of the river Blyth, and no pleasanter spot can be seen than the river from Bedlington to Hartford Bridge.
"Sweet favour'd spot of nature, crown'd with rock,
And sloping verdant bank and evergreens,
And trees luxuriant, which from thy brow
Depending low their branches, kiss the stream." — Cotes.
The whole of Blyth and South Newsham is owned by Sir M. W. Ridley, Bart.,M.P., and the great interest he takes in the development of its commercial facilities, ensures its yet greater prosperity.
Summer Camp for Poor Boys < Robinson, 1894 > Bedlington
Blyth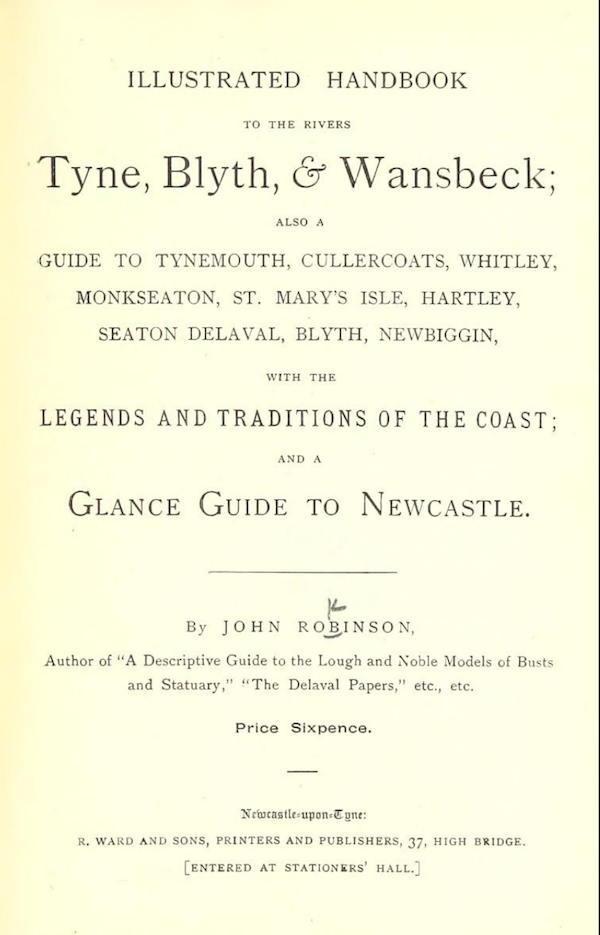 JOHN ROBINSON (1894), ILLUSTRATED HANDBOOK TO THE RIVERS Tyne , Blyth, & Wansbeck etc.
- JOHN ROBINSON (1894), ILLUSTRATED HANDBOOK TO THE RIVERS Tyne ,Blyth,& Wansbeck; ALSO A GUIDE TO TYNEMOUTH, CULLERCOATS, WHITLEY, MONKSEATON, ST. MARY'S ISLE, HARTLEY, SEATON DELAVAL, BLYTH, NEWBIGGIN, WITH THE LEGENDS …
---
Added by
Simon Cotterill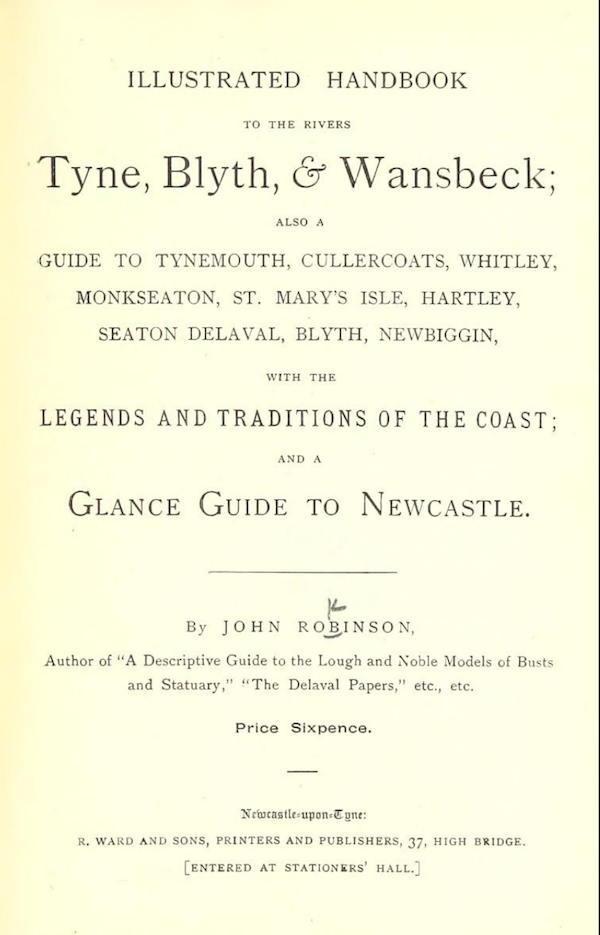 JOHN ROBINSON (1894), ILLUSTRATED HANDBOOK TO THE RIVERS Tyne , Blyth, & Wansbeck etc.
- JOHN ROBINSON (1894), ILLUSTRATED HANDBOOK TO THE RIVERS Tyne ,Blyth,& Wansbeck; ALSO A GUIDE TO TYNEMOUTH, CULLERCOATS, WHITLEY, MONKSEATON, ST. MARY'S ISLE, HARTLEY, SEATON DELAVAL, BLYTH, NEWBIGGIN, WITH THE LEGENDS …
---
Added by
Simon Cotterill
---