Topics > County Durham > Civil Parishes in County Durham > City of Durham Civil Parish
City of Durham Civil Parish
City of Durham Parish Council was established in 2018, following a local consultation in 2017. Elections were held in Durham on the 3rd of May 2018, after the council came into effect on the 1st of April that year. The civil parish includes the wards of Elvet and Gilesgate, Durham South, and Nevilles Cross.
About the Parish
Parish Council:
City of Durham Parish Council
Unitary Authority:
Durham County Council

Historical

Ancient Parishes:

See: Entry for Durham (Lewis S., 1848), which notes:

| | |
| --- | --- |
| Parish | Population (1848) |
| St. Giles' Parish | 3,396 |
| St. Mary's (North Bailey) | 308 |
| St. Mary's (South Bailey) | 99 |
| St. Nicholas' Parish | 2,757 |
| St. Oswald's Parish - Crossgate | 3,341 |
| St. Margaret's Parish | 1,712 |

Ancient parishes refer to the parishes before the split between ecclesiastical (church) and civil parishes in the 19th century. They had a parish church and often were composed of multiple townships and chapelries. In many cases, townships and parishes were originally based on the territory of manors from the feudal system during medieval times. Civil parishes were created following the Poor Law Amendment Act 1866, in which Church of England parishes, extra-parochial areas, townships and chapelries, became "civil parishes" which could set their own poor rate (tax). Then the reforms of Local Government Act 1894 established elected civil parish councils (or parish meetings for parishes with less than 300 residents) and created urban and rural districts. Boundaries of parishes and civil parishes may have changed over time.

District Councils:

Durham and Framwelgate Municipal Borough (1836 - 1974) - with City status. Created by the Municipal Corporations Act 1835 (this reformed The Corporation of the ancient Borough of Durham and Framwelgate).

The borough was abolished in 1974 by the Local Government Act 1972. The former borough area was merged with with Brandon and Byshottles Urban District and Durham Rural District, to become:

Durham City Council (1974 to 2009) - with Borough and City status. Nb. This covered a much wider geographical area than the Civil Parish created in 2018.

Durham City Council was abolished when County Durham became a unitary authority on the 1st of April 2009. However, appointments of a Mayor for the city, for ceremonial purposes, were still made by the Charter Trustees of the City of Durham (made up of County Councillors with divisions within the former City of Durham district area)
See also:

Historic Buildings and Monuments in the City of Durham Note: listed buildings are generally the responsibility of the county council, rather than the parish council.
Civil Parishes in County Durham
Durham (City)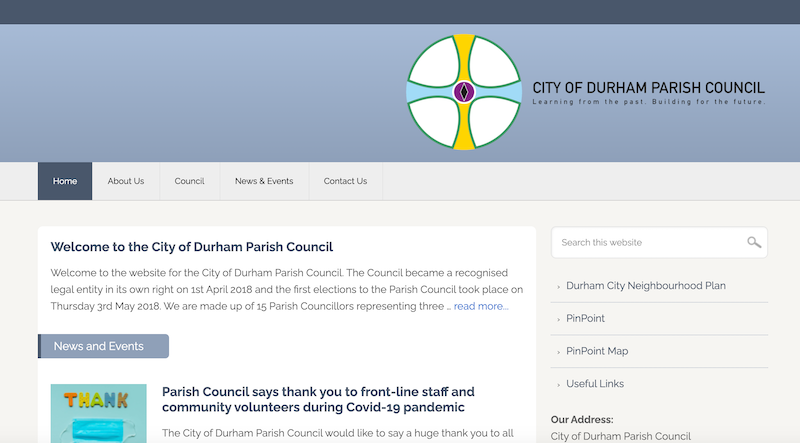 City of Durham Parish Council
- "...The Council became a recognised legal entity in its own right on 1st April 2018 and the first elections to the Parish Council took place on Thursday 3rd May 2018. …
---
Added by
Simon Cotterill
Durham (City)
- Overview History of Durham Timeline Map Street View   Early history Archeological evidence suggests a history of settlement in the area since roughly 2000 BC. The present city can clearly …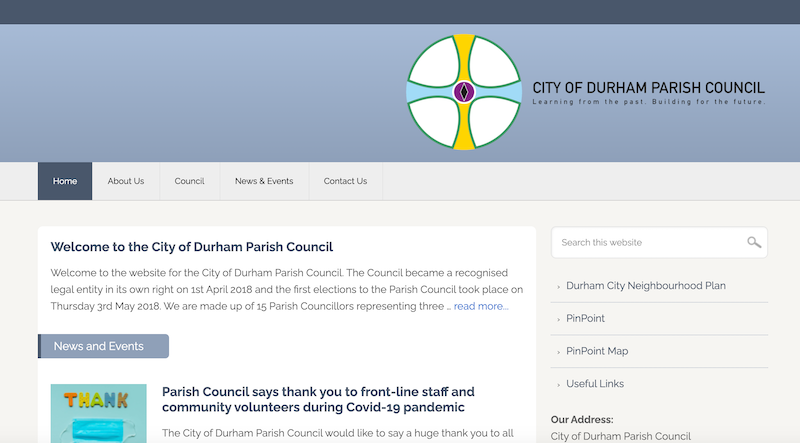 City of Durham Parish Council
- "...The Council became a recognised legal entity in its own right on 1st April 2018 and the first elections to the Parish Council took place on Thursday 3rd May 2018. …
---
Added by
Simon Cotterill
Durham (City)
- Overview History of Durham Timeline Map Street View   Early history Archeological evidence suggests a history of settlement in the area since roughly 2000 BC. The present city can clearly …
---