Topics > Northumberland > Bolton
Bolton
Bolton (aka West Bolton) is a village in Northumberland, located about 5 miles west of
Alnwick
. It is situated by Shawdon Burn/Wine Burn, close to it's confluence with the
River Aln
.
Bolton Chapel
here dates from the 12th century. Historically, Bolton was a township in the ancient parish of Edlingham. From 1866 to 1955, Bolton and the surrounding area was a civil parish (presumably including nearby
East Bolton
and
Bolton Mill
). From 1955, Bolton has been part of
Hedgeley Civil Parish
.
BOLTON, a chapelry, in the
parish of Edlingham
, union of Alnwick, N. division of Coquetdale ward and of Northumberland, 6½ miles (W.) from Alnwick; containing 128 inhabitants. It is memorable as the scene of a meeting in 1209, between John, King of England, and William, King of Scotland, who proceeded in company from this village to Norham, where they conferred upon matters affecting their respective interests; and on the 5th of Sept., in the 5th of Henry VIII., a short time previously to the
battle of Branxton
, a congress was held here, at which several noblemen and other distinguished persons, with a train of about 26,000 troops, were present.
An hospital
for a master, three chaplains, thirteen lepers, and other lay brethren, was founded and endowed prior to 1225, by Robert de Roos, Baron of Wark, in honour of St. Thomas the Martyr, or the Holy Trinity, and made subordinate to the abbey of Rivaulx, and the priory of Kirkham, in Yorkshire. Several stone chests, and urns containing ashes, charcoal, and fragments of human bones, together with a celt, have been discovered at a short distance from the place. The tithes here of the Dean and Chapter of Durham have been commuted for £196.
Extract from: A Topographical Dictionary of England comprising the several counties, cities, boroughs, corporate and market towns, parishes, and townships..... 7th Edition, by Samuel Lewis, London, 1848.
Bolton is a small village and former civil parish, now in the parish of Hedgeley, in the county of Northumberland, England. It is situated on the north side of the River Aln, about two miles (3 km) east by north from Whittingham, and miles west from Alnwick. It has a chapel and a small number of residential properties.
History
Bolton is an ancient Northumbrian village. An early record is of the establishment of a hospital, founded by Robert de Ros, Baron of Wark, before the year 1225, to support a master and three chaplains, thirteen leprous men, and other lay-brethren, dedicated to St. Thomas the Martyr, or the Holy Trinity; subordinate to the abbey of Ryeval, and the priory of Kirkham, in Yorkshire.
de Ros richly endowed the hospital with the villa, lordship, impropriation, and advowson of Bolton, and a waste of ; a corn-mill and a tenement at Mindrum; lands at Paston, and at Kilham. He also gave it the villa, manor, impropriation, and advowson of Straunston, and his estates of the Pauntons within that lordship, near Grantham, in Lincolnshire; and also an estate at Elwell, in Swanesland, in Yorkshire, with pasturage for 300 sheep, near the river Humber; a corn-mill and a tenement at Middleton, near Dalton; and lands at Garton; both in the county of York.
The master, chaplains, and brethren of the hospital, were to keep a good table, dress neatly, and provide themselves with proper necessaries and conveniences out of their annual revenues, and apply the remainder to the relief of the poor, and helpless strangers. At the Dissolution of the Monasteries between 1536 and 1541, it came, with the manor and villa, into the possession of the Collingwoods of Eslington. It belonged to Sir Cuthbert Collingwood; and to Robert Collingwood.
By 1702, it was the seat and manor of William Brown, High Sheriff of Northumberland in that year; and of Nicholas Brown, high sheriff of Northumberland, 1748; and afterwards of his son-in-law, Matthew Forster a younger branch of the house of Etherstone, and who was high sheriff of Northumberland in 1765. Bolton came next into the possession of the co-heiress of his late widow, Mrs. Forster, daughter of Nicholas Brown, Esq. above-mentioned.
Before the battle of Flodden, Sir Thomas Howard, Earl of Surrey, was at this village, on Monday, 5 September 1513; where all the noblemen and gentlemen met him with their retinues, to the number of 26,000 men, among whom were Lords Clifford, Coniers, Ogle, Scroope, and Lumley, Sir William Percy, Lionel Percy, Sir George Darcy, Sir William Bulmer, of Brancepeth Castle, in the county of Durham, and Richard Tempest.
The population of the 'township' of Bolton is given in an 1827/8 gazetteer as 115 in 1801; 130 in 1811; and 144 people in 1821, divided into 27 families living in 27 houses. The annual value of the township is specified as £1,707. In 1951 the civil parish had a population of 79. On 1 April 1955 the civil parish was merged into Hedgeley.
Governance
Bolton is in the parliamentary constituency of Berwick-upon-Tweed.
Text from
Wikipedia
, available under the Creative Commons Attribution-ShareAlike License (accessed: 06/01/2022).
Visit the page:
Bolton, Northumberland
for references and further details. You can contribute to this article on Wikipedia.
Northumberland
East Bolton, Northumberland
Bolton Mill, Northumberland
Edlingham Parish, 1848
Hedgeley Civil Parish
Bolton Chapel, Northumberland
Bolton Hall, Northumberland
Bolton Leper Hospital
Bolton Village Hall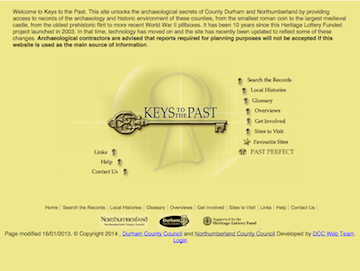 Bolton deserted Medieval Village
- "Nothing remains of the deserted medieval village of Bolton. The village was part of the Barony of Wark-on-Tweed, which means that the villagers would have originally paid taxes to the …
---
Added by
Peter Smith
Remains of a Sluice Gate near Kennel Cottages
---
Pinned by
Pat Thomson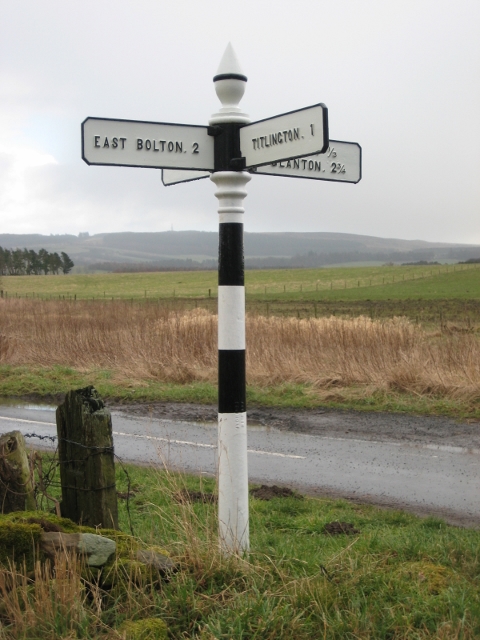 Old Direction Sign - Signpost northeast of Bolton, Hedgeley parish
---
Pinned by
Pat Thomson
East Bolton, Northumberland
- Overview Map Street View East Bolton is a hamlet / farm in Northumberland, located about 4 miles north-west of Alnwick and just over 2 miles north-east of West Bolton. It …
Bolton Mill, Northumberland
- Overview Map Street View Bolton Mill Farm in Northumberland is located by a bend in the River Aln, and is located about 4 miles west of Alnwick and just under …
---