Topics > Northumberland > Bellingham
Bellingham
Bellingham is a village in Northumberland, to the north-west of Newcastle upon Tyne and is situated on the Hareshaw Burn at its confluence with the River North Tyne.
Features
Famous as a stopping point on the Pennine Way trail it is popular with walkers and cyclists. Nearby is the Hareshaw Linn, a waterfall and the site of early coke blast furnaces.
The village's local newspaper is the Hexham Courant.
There is also an 18 hole golf course which was established in 1893.
The Heritage Centre is the local museum. It has exhibitions on the Border Counties Railway, the Border reivers, mining, farming, the photography of W P Collier, and the Stannersburn Smithy. It has a database of local family names and one of old photographs. It also holds special exhibitions of historical or artistic interest, and readings and performances by poets, storytellers, musicians and dancers.
St Cuthbert's
The Grade-I listed St Cuthbert's Church (13th-century, substantially reconstructed in the early 17th century) is described as 'almost unique in England' owing to its stone barrel vault, which runs the length of the Nave and extends into the South Transept. Three miracles connected with the mediaeval cult of St Cuthbert, are recorded in the twelfth century Libellus of Reginald of Durham.
Within the churchyard is "The Long Pack", purportedly the grave of a burglar who attempted to infiltrate a local house by hiding in a beggar's pack, but was discovered after he suffered an ill-timed coughing fit, and was promptly run through with the sword of the house's proprietor.
Adjacent to the church is St Cuthbert's Well, known locally as "Cuddy's Well", an ancient holy well.
From 1735 the parish rectors at Bellingham were under the patronage of the Governors of Greenwich Hospital. The Governors stipulated that the rectors were to be graduates of Oxford or Cambridge and naval chaplains. Bellingham Rectory was one of six such rectories in the Simonburn area.
Sports
The village football team competes in the Tyneside Amateur League First Division.
Landmarks
Two miles north-east at Hole Farm is the sixteenth century Hole Bastle, a well-preserved example of a bastle house.
Governance
An electoral ward in the same name exists. This ward stretches north to the Scottish Border with a total population of 4,074.
Text from
Wikipedia
, available under the Creative Commons Attribution-ShareAlike License (accessed: 06/11/2016).
Visit the page:
Bellingham, Northumberland
for references and further details. You can contribute to this article on Wikipedia.
Northumberland
River North Tyne
Hesleyside Hall
Bellingham Civil Parish
Bellingham (St. Cuthbert) Parish, 1848
Map and Aerial View
Bellingham at War
Bellingham Bridge
Boer War Memorial
Church of St Oswald
Church of St. Cuthbert
Map and Aerial View
Town Hall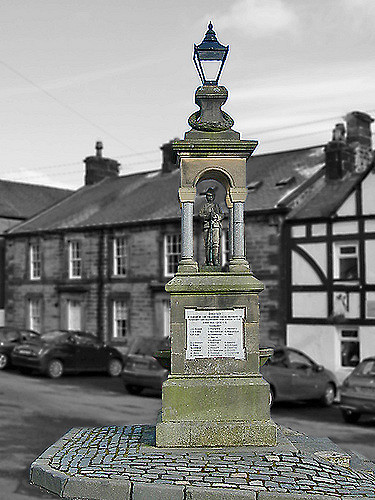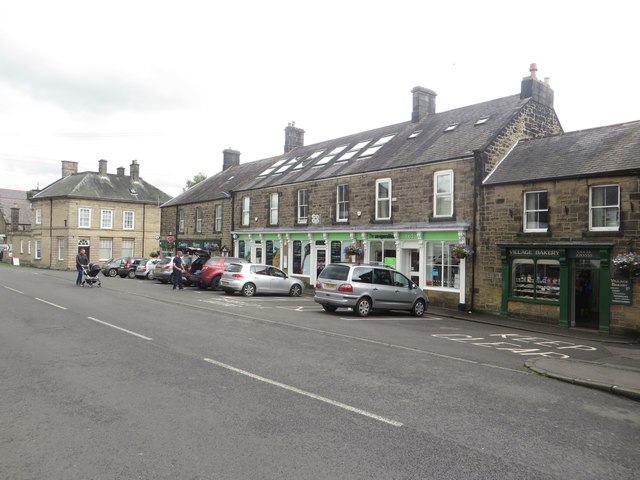 ---