 038792:Women's Football Newcastle upon Tyne Unknown 1938
---
Pinned by
Simon Cotterill
Darlington V. Terry's Aka Darlington V. Terrys (1936)
---
Pinned by
Simon Cotterill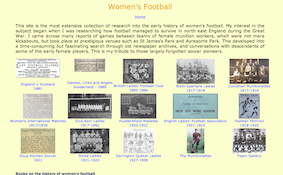 Women's Football
- Extensive referenced Website including photographs. "This site is the most extensive collection of research into the early history of women's football. My interest in the subject began when I ...
---
Added by
Simon Cotterill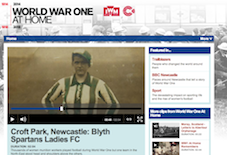 Blyth Spartans Ladies FC, 1918
- BBC audio clip and information about Blyth Spartans Ladies FC who beat Bolckow-Vaughan of Middlesbrough in the 1918 Munitionettes Cup.
---
Added by
Simon Cotterill
from Flickr (flickr)
World War 1 - Football - Blyth Spartans Munition Girls - Munitionette Cup Winners 1918
---
Pinned by
Pat Thomson
British Ladies Football Club - 23rd March 1895
- "The North team, March 23, 1895. Standing: Lily Lynn, Honeyball Nettie, Williams, Edwards, Ide. Sitting: Compton, F. B. Fenn, Nellie Gilbert, Smith P., Rosa Thiere, Biggs." Public Domain (copyright expired ...
---
Added by
Simon Cotterill
---