Topics > Tees Valley > Sadberge
Sadberge
Sadberge is a village located about 3 miles north-east of Darlington and 5 miles south-west of Stockton-on-Tees. Sadberge lies within the Borough of Darlington in Tees Valley. Historically it was within the Parish of Haughton-le-Skerne and part of County Durham.
SADBERGE, a chapelry, in the parish of Haughton-le-Skerne, union of Darlington, S. W. division of Stockton ward, S. division of the county of Durham, 4¼ miles (E.N.E.) from Darlington, on the road to Stockton; containing 372 inhabitants. This was formerly a place of great importance, and the capital of a district or county of the same name, having its gaol, sheriff, coroner, and other civil officers. It also conferred the title of Earl on the bishops of Durham. The Stockton and Darlington railway passes in the vicinity. The village is pleasantly situated on a fine eminence, which rises with a gradual ascent on every side to such an elevation as to command an extensive view over the south-eastern part of the county, and up Teesdale as far as the high grounds beyond Barnard-Castle. The tithes have been commuted for a rent-charge of £229. 2. 4., and there is a glebe of 42 acres. The chapel is dedicated to St. Andrew.
Extract from: A Topographical Dictionary of England comprising the several counties, cities, boroughs, corporate and market towns, parishes, and townships..... 7th Edition, by Samuel Lewis, London, 1848.
Sadberge is a village in County Durham, England, situated between Darlington and Stockton-on-Tees. It is administered as part of the borough of Darlington.
History
The village's name is Old Danish for "flat hill", an accurate description of the location of the village from where good views of the surrounding countryside can be obtained. The origin of the name is reflective of the area's high Viking-influence. Placenames with the same root also appear in other Viking-influenced areas, including the village of Sedbergh in the West Riding of Yorkshire (now administered as part of Cumbria).
The wapentake of Sadberge, a manor and liberty named after the village, was a liberty of Northumberland until purchased by the Bishop of Durham in 1189 and gradually incorporated into his County Palatine of Durham.
Facilities
Sadberge is conveniently situated for fast commuting to Teesside. The village has a church, village hall and two pubs.
Tees Valley
Sedbergh, 1848
Haughton-Le-Skerne Parish, 1848
County Durham
Borough of Darlington
Sadberge Civil Parish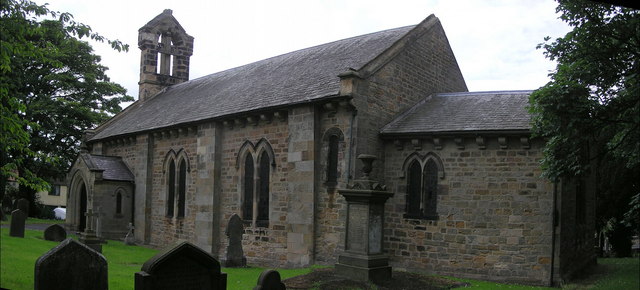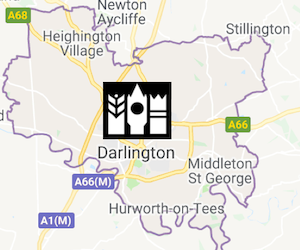 Borough of Darlington
- Overview About the Borough of Darlington Map Darlington Borough Council is a unitary authority in the ceremonial county of County Durham. The borough is part of the Tees Valley combined …
---