Topics > Northumberland > Heatherslaw > Heatherslaw Light Railway
Heatherslaw Light Railway
A 15ins gauge railway which runs from Heatherslaw to Etal, in Northumberland. "The Heatherslaw Light Railway was the brainchild of Mr Neville Smith. He was an engineer who had built locomotives in both 5 and 7 1/4 inch gauge, but harboured the ambition of building a passenger carrying railway in 15 inch narrow gauge. It was obviously meant to be, as the late Lord Joicey was looking for a project to enhance tourism on Ford and Etal Estates. Plans were submitted and a route was chosen....The Station at Heatherslaw is built on the site of the old Ford and Etal sawmill...The track bed was dug and levelled by a contractor, but the ballast and track was laid using a track gang made up of local labour. They worked every weekend for six months to enable the Railway to start running in the summer of 1989..." (Railway Website)
The Heatherslaw Light Railway is a gauge passenger carrying railway in Northumberland, England, near the border with Scotland.
Founded by Neville Smith, the railway opened in 1989 on the Ford and Etal estate. It operates over a route from Heatherslaw to Etal Village, a return trip of 4.5 miles. The railway normally operates from March to October inclusive, with an hourly (half-hourly during busy days) train service, and Santa Specials (weekends in December) but closes for the winter season. The passenger coaches include facilities for transporting wheel chairs and buggys, and a typical summer season eight-coach train can convey up to 90 passengers.
Motive Power
The railway's principal locomotive from its opening has been a 0-4-2 steam engine named "The Lady Augusta". Lady Augusta was built under contract with the workshops at the Ravenglass & Eskdale Railway and entered service in 1989. She has successfully pulled up to 100 passengers a trip for 21 years. Lady Augusta became the spare loco when Bunty (see below) arrived. It is expected that Lady Augusta will leave the railway at the end of 2015.
The second locomotive is a diesel hydraulic locomotive named "Clive". This was built on site at Heatherslaw by Neville Smith and Sid Ford.
In 2010, a third locomotive partially built by Neville Smith and completed by Alan Keef. The loco has been named "Bunty", Neville's nickname for his wife, Bernice.
A new build diesel locomotive has been built during 2015 and is expected to enter service at the start of 2016, Bunty will remain the main locomotive hauling passenger trains. The new diesel has not yet been named.
Stations
The station at Heatherslaw features an overall roof covering 1 concrete-slabbed platform; a third line serves as a locomotive release road for engines to run round trains; there are also storage sidings and sheds, as well as a ticket office and shop. The station at Etal has a simple terminal passing loop and a turntable.
Text from
Wikipedia
, available under the Creative Commons Attribution-ShareAlike License (accessed: 08/07/2016).
Visit the page:
Heatherslaw Light Railway
for references and further details. You can contribute to this article on Wikipedia.
Heatherslaw
1989
Etal
Railway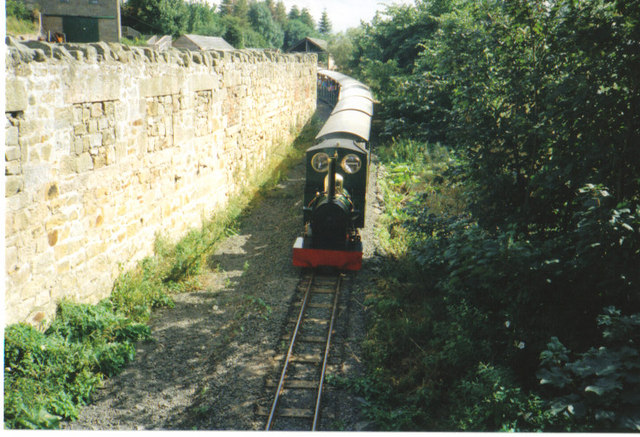 from Flickr (flickr)
Heatherslaw Mill. 'The Lady Augusta' & train. 25.4.08
---
Pinned by
Pat Thomson
from Flickr (flickr)
Etal. 'The Lady Augusta' on turntable. 25.4.08
---
Pinned by
Pat Thomson
from Flickr (flickr)
Etal. 'The Lady Augusta' & train leaving. 25.4.08
---
Pinned by
Pat Thomson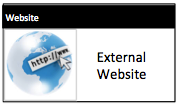 Heatherslaw Light Railway
- Official Website of the Heatherslaw Light Railway. "Welcome to the Heatherslaw Light Railway (The most northerly steam railway in England). Travel on our 15 inch gauge railway, pulled by our …
---
Added by
Pat Thomson
Etal
- Overview About Etal Map Street View   Etal is a small village in the far north of the county of Northumberland, England which shares a parish with nearby Ford. It …
Steam Engine Bunty Heatherslaw Light Railway September 2014
- Photo by Peerjay56, 2014, available for reuse under a Creative Commons Attribution-Share Alike 4.0 International license.
---
Added by
Simon Cotterill
---