Topics > Education > Universities > Newcastle University > King's Quad > Statue of Martin Luther King
Statue of Martin Luther King
A new statue of the civil rights leader, Dr Martin Luther King Jr, is located in King's Quad at Newcastle University. The 2m tall bronze statue, by Nigel Boonham, was commissioned to commemorate the 50th anniversary of King's visit to Newcastle University to accept an honorary degree. The statue was unveiled on 13th November 2017, by Ambassador Andrew Young, who accompanied Dr King on his visit to Newcastle in 1967. Words taken from Dr King's acceptance speech circle the base of the statue. He spoke of the 'three urgent and grave problems' facing the world: war, poverty and racism. This was Dr King's last public address outside the US before he was assassinated.[1] Learn more...
King's Quad
Martin Luther King, Newcastle visit
Statues and Memorials
2017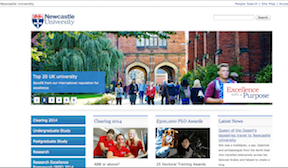 Statue unveiled in honour of Martin Luther King Jr.
- 13 November 2017. "A brand new statue of Dr Martin Luther King Jr. was unveiled at Newcastle University today to mark the 50th anniversary of his visit to accept an ...
---
Added by
Simon Cotterill
Martin Luther King, Newcastle visit
- Overview About Martin Luther King On the 13th of November 1967 Dr Martin Luther King Jr visited Newcastle to receive an honorary degree from Newcastle University. Dr King was presented ...
---