Topics > Tyne and Wear > North Tyneside > Preston
Preston
Preston Village is an area of North Tyneside, situated north of North Shields and north-west of Tynemouth. Preston Grange , including North Tyneside Hospital (Rake Lane) and Tynemouth Swimming Pool, are located to the north of Preston Village. Historically, Preson was a village and township in the ancient parish of Tynemouth, in the county of Northumberland.
Extract from: A Topographical Dictionary of England comprising the several counties, cities, boroughs, corporate and market towns, parishes, and townships..... 7th Edition, by Samuel Lewis, London, 1848.
PRESTON, a township, in the parish and union of Tynemouth, E. division of Castle ward, S. division of Northumberland; containing 919 inhabitants. The township reaches to North Shields; the village, which is very pleasant, occupies a fine eminence, and commands an extensive and beautiful prospect. Here are several handsome residences. Some barracks in the township have been converted into dwelling-houses. The impropriate tithes have been commuted for £178. In 1821, part of the horns of a deer, of extraordinary size, was found at a considerable depth, in the northeast angle of Blake-Chesters, one of the oblong squares referred to by Camden as connecting a chain of Roman forts running in a direction from Segedunum (Wallsend) to Tynemouth. Sacrifices of wild animals were frequently made in these stations, and there is still a faint tradition of a temple having stood on the western side of the camp: the head of an old spear has also been dug up.
Preston is a village and suburb about a mile north of North Shields, North Tyneside. Its population was recorded at 8419 in the 2011 census. Historically a separate entity, it has slowly been absorbed into the town to the south and expanded as to form a continuous urban area north to Monkseaton.
History of Preston and 'Preston Township'
The area derives its name from the old English "Preosta", meaning Priest and "Tun", meaning enclosure or homestead. It is first mentioned in a charter dated between 1106 and 1116 and is recorded in the St. Alban's Register. At about this time the lands of Preston were granted by King Henry I to the monks of St. Oswin at Tynemouth. At the time of the Dissolution of the Monasteries in 1539, the lands were returned to the Crown. In 1649, the Township was enclosed and of land were divided and granted to various copyhold tenants. In 1832 Preston Township, together with Tynemouth, North Shields and Cullercoats was constituted a Parliamentary Borough and by an order granted on August 6, 1849, the four were incorporated into Tynemouth Borough for municipal purposes.
Preston Township lay between North Shields to the south and Monkseaton to the north. To the east was the village of Tynemouth and to the west, Chirton. In addition, when the Shire Moor was enclosed in 1788, approximately of land were annexed to Preston Township. This annex was originally known as Northumberland Place but is nowadays known as West Allotment.
The main industries were coalmining (from the 12th to the 20th centuries), the tanneries of the 13th century, the breweries of the 17th, 18th and 19th centuries, the damask factory of the 19th century and the carriage works of the late 19th and early 20th centuries.
Within the township is Preston Village, described by Parson and White in their descriptive book on Durham and Northumberland of 1828 as: " a very pleasant village north of North Shields to which its Township extends. It occupies a fine eminence which commands an extensive and beautiful prospect. Here are several gentlemen's villas, two public gardens, two common breweries, four public houses and a linen manufactory: besides about 100 houses and cottages which have a neat and clean appearance."
William Harold Smurthwaite published a detailed history of Preston in 1992 entitled Our Heritage – Preston Township and Preston Village. It was illustrated by Kevin Bradley, who had previously produced a book about the Township, entitled An Illustrated Guide To Preston Township. This book including original illustrations is currently being published by Kevin Bradley and George Smith; it is available at http://www.prestontownship.org.uk.
Leisure
Tynemouth Pool is situated within the Village, as are Preston Playing Fields, and the sporting facilities of John Spence High School. Foxhunters Field, a large open area of parkland and playing fields is to be found to the north. The area is also home to many local sporting clubs: North Shields RFC which has its clubhouse on Preston playing fields, Percy Park RFC, on Preston Avenue, Tynemouth Cricket Club and nearby Tynemouth Golf Club. North Shields Football Club also used to be based at Appleby Park before moving to their current Silkeys Lane site.
Education
The area has two primary schools: Preston Grange Primary School, on the Preston Grange estate, and King Edward Primary School on Preston Avenue. Secondary education is provided by John Spence Community High School, formerly Preston High School, and further education by Queen Alexandra Sixth Form College.
Services
The area contains many or the services for North Shields: North Tyneside East Fire Station, Preston Cemetery, North Tyneside General Hospital (which replaced Preston Hospital in the late 1980s) and a large Morrisons supermarket.
Religion
There are a number of churches and religious buildings in the area:
Baptists Together
Preston Grange Community Church
Church of England
Catholic Church
The Church of Jesus Christ of Latter-day Saints
meetinghouse, Malvern Road
Public Houses
The area has six Pubs; The Gunner, The Alexandra, The Sportsman, The Spread Eagle, The Foxhunters and The Magic Lantern.
Text from
Wikipedia
, available under the Creative Commons Attribution-ShareAlike License (accessed: 13/06/2018).
Visit the page:
Preston, Tyne and Wear
for references and further details. You can contribute to this article on Wikipedia.
North Tyneside
Map and Aerial View
Map and Aerial View
Preston Grange Primary School
Preston, 1855 Preston Township / A Brief History of Preston
- Preston Township - a Website by Kevin Bradley & George Smith, includes a history and details of Preston in North Tyneside.
---
Added by
Simon Cotterill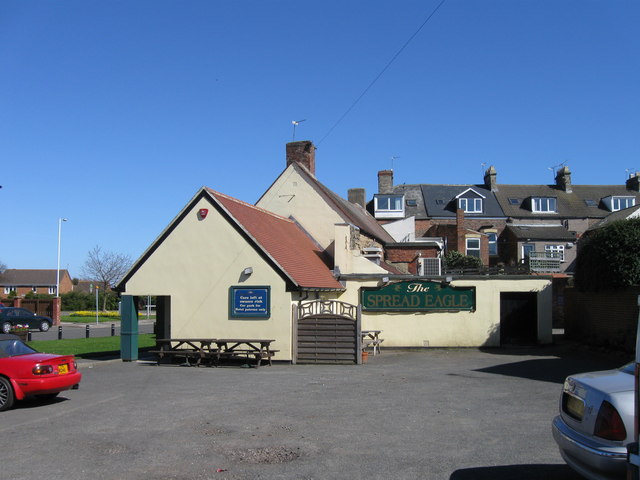 ---