Katherine Lloyd
Katherine now works at Heriot-Watt University in Cultural and Heritage Studies.
Information from the previous Co-Curate project:
My role on the Co-Curate Project is to work closely with schools and communities to help them identify stories that are important to them, carry out research using museums, archives, libraries and community heritage resources in the North East and beyond, and to help groups to share their stories with others through the Co-Curate website.
I can provide support for groups and individuals who want to add their stories to the site, so please get in touch via email or our twitter account @CoCurateNE if you would like to be involved!
About me
I am a Research Associate at the International Centre for Cultural and Heritage Studies (ICCHS), where I also contribute to Postgraduate teaching in Museum, Gallery and Heritage Studies.
My research interests include museums, heritage, place, identity and belonging in the UK and wider international context. I have worked extensively on issues relating to the representation of, and visitor responses to, migration in museum displays in Scotland and the North East of England. More broadly, I am interested in issues of power, co-production and the construction of knowledge, and the use of digital technology in breaking down institutional barriers between museums, universities and communities.
Prior to joining ICCHS, as both a Masters and PhD student, I worked in education and audience research in museums in Scotland, including the National Museum of Scotland and Kelvingrove Art Gallery and Museum, and the Vancouver Museum, Canada.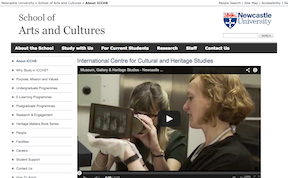 International Centre for Cultural and Heritage Studies (ICCHS)

---
Added by
Co-Curate Team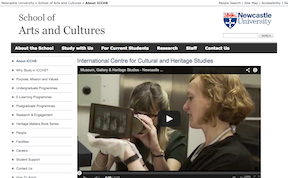 International Centre for Cultural and Heritage Studies (ICCHS)

---
Added by
Co-Curate Team
---