Clasp - by Antony Gormley
"Clasp" by Antony Gormley, the designer of the Angel of the North, installed on King's Walk at Newcastle University on the 26th of July 2018. The new sculpture, on loan from the artist, is formed of 18 individual blocks and cast as one single element in Spheroidal Graphite iron. The sculpture will develop a red oxidised finish over time with exposure to the elements. Antony Gormley notes: "Two stacks of blocks find mutual support and together, they make a concentrated, single sculpture that is both body and building."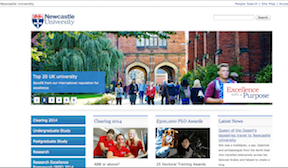 New Antony Gormley sculpture installed in Newcastle
- Press Release, 26 July 2018. "A brand new sculpture by celebrated artist Antony Gormley has been installed in the heart of Newcastle University's campus. Balance of form and feeling ...
---
Added by
Simon Cotterill
---