Topics > Education > Universities > Newcastle University > Elizabeth Barraclough Building
Elizabeth Barraclough Building
The Elizabeth Barraclough Building (formerly Black Horse House) is a 4 storey office building at 91 Sandyford Road, built in 1983. The building was purchased by Newcastle University in c.2014 and currently hosts the Newcastle University IT Service (NUIT). It was previously leased by the Lloyds Banking Group up to 2018. In 2019, the building was renamed in honour of Elizabeth Barraclough a former Director of the University Computing Service (UCS) at Newcastle. She came to work at the University in 1957 (at that time King's College), as a computer operator for the vacuum-tube-based Ferranti Pegasus computer - the very first computer at the University! Barraclough spent three months in the USA implementing a medical information system in 1963, now considered to be one of the world's first electronic databases. She was awarded a masters degree in computing in 1964 for work on school timetables and sent her first e-mail via the ARPA network in 1969. Barraclough was Director of UCS at a time of rapid technological development, and retired from that role in 1993, going on to live in Keswick and became a local councillor and later Mayor. She was awarded an honorary fellowship from Newcastle University in 2006.
Newcastle University
Sandyford Road Former mayor receives award for "tremendous contribution" to university
- Cumberland & Westmorland Herald, 7th October 2006. "KESWICK councillor Elizabeth Barraclough has been awarded an honorary fellowship from Newcastle University, where she first began work almost 50 years ago. The 73-year-old ...
---
Added by
Simon Cotterill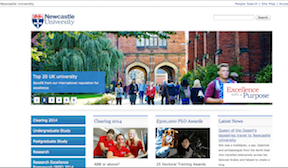 Exhibition bytes into the history of computers
- Newcastle University Press Office, 13 August 2018. "....Among the veteran models on display is the vacuum-tube technology of the type used in Ferdinand, the Ferranti Pegasus computer which was the ...
---
Added by
Simon Cotterill
---