Cycling July 2015: A journey between North and South Tyneside and their Roman Forts
Cycling July 2015: A journey between North and South Tyneside and their Roman Forts
Local history bike tour/ride between school and the Roman forts either sides of the river!
On the 7th of July 14 Year 10 students will cycle north and south Tyneside taking in the at least 14 places of historical interest.
There initial preparation and research will take place here along with presentation of their findings on the ride.
Another aim is for the students to produce a guide book detailing the history and the cycling route. Alink to this will be posted upon its completion.Any feedback/suggestions from the Co-Curate community will be welcomed.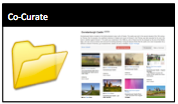 Tynemouth Pier and Lighthouse
- Overview Map Street View Work on the North Pier in Tynemouth began in 1854 and on the South Pier (in South Shields) in 1856. Both piers were originally constructed in ...
---